Well few days back there were reports doing around the corner that Bollywood actor Hrithik Roshan has signed project with Sajid Nadiadwala which is going to be directed by Rohit Dhawan, according to latest development maker of flick has not finalized any star cast.
According to sources Rohit has just completed script and joined hand with Sajid Nadiadwal for upcoming untitled project and they both are looking forward to search for star cast.
According to sources reports of Hrithik being part of Rohit Dhawan's project is not true, as maker has not yet signed any actor.
Before Sajid and Rohit collaborated with John Abraham starrer "Dishoom".
Sajid Nadiwadwala and Hrithik are coming up with most awaited project "Super 30" which is right now on final scheduele. Apart from this Sajid is coming up with Housefull4, Kalank and Chhicchore.
Well if above news is believed to be true than its going to be heart breaking moment for fans of Hrithik who were feeling excited about his upcoming venture with Rohit Dhawan.
Bollywood actor Hrithik Roshan gifted special gift to his fans on eve of Teachers Day, yes actor gifted first look of his upcoming project Super 30 to his fans.
Upcoming project is based on real life time story of Anand Kumar a great mathematician. Movie will showcase story of teacher who come forward and train 30 students for IIT entrance test.
Recently actor came forward and took social platform twitter and posted a poster with tweet "Ab Raja Ka Beta Raja Nahi Banega" (Now Kings son will not become King) well this dialogues seems putting light on ongoing controversies regarding Nepotism in Bollywood.
Well second poster was captioned " Only one will become King who will entitle #Super30Poster @RelianceEnt @FuhSePhantom @NGEMovies #VikasBahl #SajidNadiadwala #HRXFilms @WardaNadiadwala @MadhuMantena @teacheranand @mrunal0801 @super30film @TheAmitSad.
Well if we go by latest tweets of actor captioned with poster, it seems actor is in mood of giving social message out there.
Super 30 to release on January 25th  2019.
Well we all know Hrithik and Sussanne who got separated few years back, always seen spending leisure time with their children Hrehaan and Hridhaan.
Number of time actors is spootted with  Sussanne and his kids out on vacations, parties and small outings .
Well number of reports also suggest that both Hrithik and Sussanne is looking forward to reunite again. However they have denied any such report number of time.
Well when it comes to parenting they are always there for their kids, they never make their kids feel alone, they always take time off from there busy schedule no matter how busy they are.
Well if news of reuniting comes to be true than its going to be delight for their family and friends to see them together again, Well right now it seems nothing more than a rumor, as these kind of rumors are doing around the corner from past two years.
On work front Hrithik is busy with his upcoming project Super 30, in which actor is easing a role mathematician who give training 30 students, it's based on real life story of Anand Kumar a great mathematician.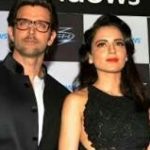 Well clashing date at box-office has become common these days, well some makers usually avert box office clash by shifting date, keeping in mind about loss to business.
OMG this time old rivals Kangana and Hrithik who are in controversy from past one year due to unhealthy relationship between both, and we all are aware about the  controversy going between both. They don't like seeing each other.
Well according to latest development both the stars are going to clash at box-office next year. Yes you heard right their upcoming projects Manikarnika and Super 30 is releasing on same date which is going to be 2019 Republic day weekend.
According to sources though Manikarnika was all set to release this year in September but due injury of Manish Wadhwa film got delayed and according to latest development VFX work is still not completed, therefore filmmaker has decided to release flick next year on Republic Day weekend.
Well if reports are believed to be true than its going to be delight for Kangana and Hrithik to watch box-office fight between them.
Well we hope both the movies get good business at the box-office.
Well few days back there was news doing around the corner that Kabil actor is not in mood to work with Sanjay Leela Bansali for his upcoming project which is going to be remake of South blockbuster hit Pulimuruga.
Well according to latest development Hrithik has denied any such report by adding why I will decline offer of great filmmaker, I share great bonding with him, before I collaborated with SLB for Guzarish.
Well I don't understand stand how fake news are created without any reason for spoiling image and bonding. Please stop creating buzz try to be fare and work on reality.
On work front right now actor is busy with his upcoming project Super 30. After wrapping Super 30 actor will join Tiger Shroff for Yash Raj Films upcoming project.
In upcoming project Super 30 you will watch actor easing role of Mathematics teacher.
Well we hope after going through above news everyone's doubt will be clear.
advertisement
Subscribe Newsletter
Recent Posts
Tags