From the very first day Jacqueline Fernandez made her Bollywood debut, she has managed to become popular celebrity and that to in very short period.
According to latest reports Jacqueline has more than 20 million followers on Instagram and Twitter, which make her most liked actress of Bollywood on Instagram and Twitter. According to sources reason behind crossing 20 million mark on social platform Instagram is that she is very active on social media and time and again she keep on interacting with her fans regularly by posting  images and videos of her ongoing projects and ventures . She even goes live with her fans and have live chat with them regularly.
Another thing that her fans like about her is that she never hides anything from them, whether she is out for holidays, spending time with friends, working for social cause, she shares every bit of her routine with her fans.
Jacqueline has great fan following due to her dedication towards her work.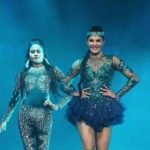 Jacqueline Fernandez once again stunned audience with her pole dancing skill, yes you heard recently she stunned everyone at Dabangg Tour 2018 show with high voltage performance that took place in Atlanta.
According to sources audience was too impressed with actress poll dance performance that they kept on hooting and cheering till she completed her performance.
Jacqueline Fernandez was looking hot diva in peacock coloured glittery outfit incontrast with thigh-high boots including hot accessories.
Apart from pole  dance she did dance on chart buster number from her super duper flick like  "kick" and "Race 3".
Recently actress shared her joyful experience on ongoing dabbang tour at Atlanta on twitter she wrote "💙 Atlanta #dabangg #worldtour thank you!!! #blessed".
According to report she will be traveling across 21 countries during dabangg tour, and in all 21 countries she will be performing pole dance and Bollywood dance.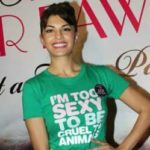 Bollywood actress Jacqueline Fernandez is going to be nominated by (PETA) India's Digital Activism Award. She will be given award on lead-up to National Technology Day which will take place on 11th May.
She is working as Online Animals activist, using online platform asking her fans to support animals #FreeGajraj campaign which help getting elephant free used in Temple.
She also work for number of ngo's who work for the welfare of animals. She help those Ngo's by writing letters to municipal commissioners to give relief to horses used for joyride in Mumbai. She has also writes to  Mayor to stop using horse-drawn carriages. She is also working for the welfare of stray dogs by asking people to adopt dogs.
In 2014 actress was nominated with PETA India Woman of the year award.
We salute actress for taking great initiative in her hand.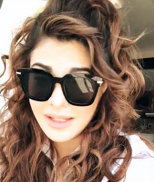 OMG Jacqueline Fernandez received eye injury while performing stunt scene on sets of her most awaited project Race 3.
According to reports actress received eye injury in Abu Dhabi, while performing action scene, it all happened when she was playing squash. However actress was immediately shifted to hospital, where she was given first-aid and thereafter she was discharged.
According to report taking into consideration schedule of flick, actress after returning from hospital immediately resumed action scene.
According to report actress have to wear sunglasses to hide injury while performing scene.
Recently actress came forward took social media instagram and shared same video with caption ,"Thank you all for your 'Get well soon' wishes, really means a lot. I did kinda injure my right eye and I have to do an entire climax scene in sunglasses now, so don't be shocked."
She further wrote "I want to share moral of this story, always wear goggles while playing Squash and concentrate on game".
Race 3 is all set to hit theatres on Eid 2018.
Few days back we came across news that Jacqueline Fernandez is all set to share screen with Salman Khan in upcoming project Race 3, however it was not disclosed what kind of role she will be playing.
Recently Salman came forward and disclosed about Jacqueline role adding "she is all set to ease a power packed role, she will be seen easing character of Jessica.
Actor recently took social media Twitter and reaveled a poster with caption "Jessica aka Jacqueline as raw power. He said, "Jessica: Raw power . #Race3 #Race3ThisEid @Asli_Jacqueline @SKFilmsOfficial @TipsOfficial".
On the other hand actress came forward and posted poster with caption "..and power can be dangerous!! #Race3ThisEid #Repost @beingsalmankhan".
On the other hand maker of flick Remo D'Souza aslo came forward and shared the first look poster of Jacuqueline with caption "Jessica : the storm is coming! Get ready for #Race3ThisEid @Asli_Jacqueline".
According to sources in upcoming project viewers will witness next level action and thrill. According to sources actress is leaving no stone unturned to perform high end action.
Movie is all set to release on Eid 2018.
advertisement
Subscribe Newsletter
Recent Posts
Tags