Well everyone is waiting for kangana Ranauat's upcoming project Manikarnika: The Queen of Jhansi, which is all set to release on 25th January 2019.
Good news for viewers who were eagerly waiting for the release of first full-fledged trailer of flick, recently maker of flick came forward and announced release date of trailer, which is going to be December 18.
Apart from filmmaker Bollywood trade analyst Taran Adarsh took social platform twitter and tweeted sharing image of Kangana with caption "Trailer of #Manikarnika – The Queen Of Jhansi to be launched on 18 Dec 2018… Zee Studios to also release the film in #Tamil and #Telugu on 25 Jan 2019."
However shoot of movie got stuck into number of time, due to which speculation started building  that movie might get delay, however due to Kanganas hard work and patience made movie wrapped up in prescribed date.
So guys it's going to be great news for you as movie is releasing on prescribed date, and first trailer will be releasing on 18 December.
Nick Powell (Hollywood Action Director) praise Kangana Ranaut for her dedication toward her most awaited project "Manikarnika :The Queen Of Jhansi".
While interacting with media Nick disclosed taking into consideration of biopic he created stunt scenes on backdrop of 19th century, I have tried to look everything real from costumes, action to artillery.
Nick further said "In my entire life I have not seen such a dedicated actress, who left no stone unturned for getting perfection in sword fighting and horse riding. She did not took help of any body double, she has done all stunts of her own.
Nick has done action direction for Hollywood blockbuster flicks Gladiator and Sumurai.
While concluding his interaction with media Nick disclosed "He is feeling lucky that he got chance to work with such daring actress, who can break all limits getting into character.

Good news for Kangana's fans who were eagerly waiting for the wrap up of her upcoming project "Manikarnika : The Queen Jhansi".
Well few days back there was buzz doing around the corner that project might get delay due to Sonu Sood and Swati Semwa quitting project at last moment when Kangana took charge of production, However Kangana's fast decision on replacing Sonu and Swati has helped project to get wrapped up in prescribed time.
According to sources  crew members of flick along with Kangana was seen in happy moment on set as movie got wrapped up in time, for the same all the crew members including stars posed in a group photo which was clicked on sets of flick.
News of wrapping up of Manikarnika :The Queen Of Jhansi was shared by co-producer of Zee Studios on social platform twitter.
Upcoming project is all set to release on 25th January 2019.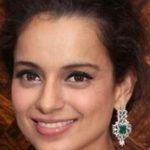 Few day back we came across news in which Kangana joined #MeToo moment and accused Vikas Bahl for sexual harassment. In her statement she said when ever she met Vikas during the shoot of queen he used to hug her tight and tuck his face in her neck hold her tight and breathing in the smell of her hair. It was used to be embarrassing moments each time he hugged me. He is not good guy, he should be punished for his ill-suited behavior
Recently actress came forward and raised question on Hrithik Roshan adding film industry should avoid working with such kind of actors. Who don't respect there wives, rather spend time with girlfriends.
Recently while interacting with media actress was asked about her views regarding Vikas Bahl's home production Phantom Films getting dissolved, she replied what is happening with vikas is right, he deserve it. I want to tell their are number of people in industry who take women granted and keep on sexually harassing and asulting them. I want everyone woman to come forward and open up about people who are harassing them in work places.
Well we all know Kangana and Hrithik are going through tussle from past few years due to their relationship.
Yesterday Kangana Ranauat released trailer of Manikarnika : The Queen Of Jhansi, well teaser is created in such a way that it gives glimpses of actress different avatar as warrior and mother.
Well Manikarnika : The Queen of Jhansi is a tribute to Rani Lakshmibai, who fought against East India Company, she was first Indian freedom fighter fight against British's .
While going through teaser you will witness important facts of Rani Lakshmibai, as how she came forward and fought with East India Company in 1857, which was first major revolution that took place in India against East India Company.
Going through teaser you will not stop yourself for praising Kangana for justifying role of Rani Lakshmibai.
It was believed that due to Sonu and Swati quitting project midway movie might get delayed, however sources disclosed as replacement is done in prescribed time therefore movie will not get delay and release on prescribed date 25th January 2019.
advertisement
Subscribe Newsletter
Recent Posts
Tags