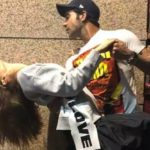 As we all are waiting eagerly for the release of Kangana Ranaut and Rajkumar Rao's most awaited flick "Mental Hai Kya".Well good news for viewers is, recently crew members of flick wrapped up shooting.
According to latest report both stars of Mental Hai Kya was witnessed in crazy mood as they were witnessed giving romantic pose on streets of London.
Recently romantic pick of both the stars was shared on social media Instagram on Kangana's social account with caption "Going #Mental on streets of London #Kangana Ranaut & @rajkumar_rao paint the town crazy at the wrap party up for the #Mental hai Kya shooting schedule in London @balajimotionpicture @ektaravikapoor @pkovelmudi #ShootDiaries @Karmamediaent. "
Best thing about upcoming project is that both the stars are sharing screen together second time, before they shared screen space in blockbuster hit "Queen".
However releasing date of flick is quite far, and  movie is already started making place in hearts of fans and viewers.
Other co-stars of this flick are Amyra Dastur and Satish Kaushik. Movie is all set to release on February 22nd 2019.

Well from very first day news of Kangana and RajKumar Rao collaborating once again for Mental physiological thriller came into light fans were  eagerly waiting for the release date of flick. Well it seems wait is now over as recently both the stars shared latest video on social media Twitter in which they are seen announcing release date.
In video you can witness Kangana wearing red Anarkali dress tapping on shoulder of Rajkumar  and asking each other "Mental Hai Kya?" and further they reveal release date adding movie will release on 22 February.
Before we watched Rao and Kangana in "Queen" they both received great applause for their outstanding performance from viewers and critics.
Other co-stars of Mental are Amyra Dastur and movie is directed by Prakash Kovelamudi. Movie is all set to release on 22nd February 2019, as revealed by Kangana and Rao.
Few days back we came across news that Kangana has declined offer of Iranian filmmaker for his upcoming project " Beyond The Clouds.
Recently filmmaker Majidi Majidi came forward and disclosed " Yes I approached Kangana and Deepika. However things didn't went accordingly and therefore I signed Malavika Mohanan.
Maker disclosed I came across news that Kangana is not feeling keen to work with me, therefore she rejected my offer, this was not true fact, for the same we tried to go through truth and we were surprised that it was not Kangana, it was her office that published this news of actress declining my offer.
News which was published was " Kangana declined Majidi's offer as she found her character "Submissive". Well it was all rubbish as this was not the reason, well I don't want to go in depth. But I want to make clear she is great actress I hope in future we will work together added Majidi.
Well talking about Deepika Majidi disclosed she was keen to work with me but due to her previous commitment she was unable to provide date's , as she was working for big project.
Kangana is all set to enter next level by making her entry on global stage with Michelle Obama and Oprah Winfrey.
According to sources coming August you will witness Kangana representing India in Ghandhi Goes Global Summit which will take place in New Jersey, best thing about this summit is that actress is going to share stage with world famous personalities Michelle Obama and Oprah Winfrey.
According to report upcoming Summit will focus on spreading Philosophy of Gandhi worldwide in form of interactive activities, educational programmes, motivational talks and cultural events.
According to sources upcoming Summit will be held on 18th and 19th August.
While interacting with media actress disclosed " I have always dreamt about making impact on society by contributing my thoughts, on the other hand sharing stage with world's well known personalities is dream come true. I am great fan of Oprah she is my idol. Well I will be preparing for my upcoming speech so that I can send right message to everyone.
Bollywood hit pair coming together again, yes we are talking about Kangana and Rajkummar Rao collaborating again for upcoming project "Mental Hai Kya".
Before we have watched Kangana and Rajkumar outstanding chemistry in "Queen" back in 2014.
According to report confirmation of both the star sharing screen together came into light when they both were spotted coming out of restaurant in Mumbai on Monday night. And recently maker of flick Ekta Kapoor came forward and confirmed the news while revealing first look of flick. She took social platform twitter shared first look with caption ""It's time to bring out the crazy in you.. Because Sanity is overrated! Here's the first look of #MentalHaiKya starring #KanganaRanaut and @RajkummarRao. @balajimotionpic
According to sources upcoming project "Mental Hai Kya" is a psychological thriller in this flick Kanagan is easing a role of girl who is a murderer going through mental illness.
Well its going to be great news of Kangana and Rao's fans to watch them together again after a long gap.
Right now actress is busy shooting for her most anticipated and awaited project "Manikarnika", after completing this project she will star shooting for Mental Hai Kya.
advertisement
Subscribe Newsletter
Recent Posts
Tags