Good news for diehard fans of Kareena Kapoor's Poo character which she played in "Kabhi Kushi Kabhi Gum", this was the very project that made her superstar overnight.
According to latest reports actress is all set play Poo in his upcoming project which is going to web-series. Yes you heard right actress is all set to make her debut on digital platform. According to sources right now actress is having sitting with Netflix.
According to sources in upcoming web-series actress is going to ease a role of 30 years old women.
According to sources if everything goes according to plan, then were shortly digital audience will get chance to watch Kareena playing her popular character Poo.
Apart from digital project she will be working on her upcoming projects "Good News" and "Thakt".
So guys get ready to meet your favorite character Poo again, but this time of digital platform.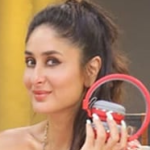 Meet Bollywood's new RJ Kareena Kapoor. Well Kareena is all set with her Radio chat show which will go on air by the end of this year.
According to sources Kareena has already finished one episode of Chat show and that too with Sunny Leone, who was said to be first guest of chat show. according to sources first episode will focus on career, marriage and motherhood. Best thing about first episode is Sunny and Kareena collaborating first time.
Recently both stars were witness at Mehboob Studios both stars were looking hot and stunning in black and white outfit.
Recently we watched web-series based on life story of Sunny Leone "Karenjit Kaur: The Untold Story, her story reveived positive reviews from critics and viewers and managed to get great TRP.
On work from Kareena is all set with two mega projects Takht and Good News.
On work front Sunny is all set with Tamil project Veermadevi.
Well news of Kareena coming up with Radio chat show will surely create excitement among her fans.
Few days back we came across news in which Kareena Kapoor Khan disclosed, well time has come when I am going to share screen space with Ranveer, however before I was to share screen space with him but due to some reason it could not happen. Well today I am happy at last I have got chance to shares screen space with versatile actor.
Well recently actress came forward and praised his co-actor Ranveer Singh and filmmaker Karan Johar adding "I am feeling happy that I am going to share screen space with Ranveer Singh and Karan Johar after two decades. I have worked with Karan in 2001 for Kabhi Khushi Kabhi Gum what a great filmmaker he is, I have watched Ranveer Singh's number of flick what a fabulous and versatile actor he is working with him help me learn lot new things.
Upcoming project "Takht" is going to be family drama full of emotions.
In Takht Kareena is sharing screen space with Ranveer Singh, Bhumi Pednekar, Alia Bhatt, Anil Kapoor, Vicky Kaushal and Jhanvi Kapoor.
Well it's going to be delight for Kareena and Ranveer fans to watch pairing of powerful stars first time on Big Screen.
As we all know Bollywood actress Kareena Kapoor also work for a UNICEF's, as she is been appointed Goodwill Ambassador of UNICEF.
According to sources actress is going to engage in program organized by UNICEF for the welfare of mothers and child's health, according to sources she is going visit number of small cities for creating awareness concerning nourishment and physical condition of pregnant women's.
Recently UNICEF conducted a survey regarding health and nutrition, it was found that women living in small cities are not much aware about the precautions required during post pregnancy, due to which negative aspects arise during pregnancy which usually have bad impact on both mother and child's life.
According to sources actress will conduct special event in small cities in which she will educate women about taking protective action during six months of post pregnancy, so that it does not have any adverse affect on delivery.
Well we salute actress for participating in awareness program being conducted by UNICEF

Well from the very first day "Veere Di Wedding" became blockbuster hit and received positive reviews from critics and viewers, maker of flick decided to make sequel of it taking same star cast.
According to sources maker of flick has already started working for the sequel of "Veere Di Wedding", and there by role of Sonam Kapoor and Swara Bhasker's  is on card whereas Kareena Kapoor Khan's role in the film is unpredictable right now, as maker of flick is still in talks with Kareena and she has not yet given node to project, well we think we have to wait for confirmation of Kareena will she become part of sequel or not.
Well it will be bit confusing news for fans of Kareena Kapoor who will be feeling delightful to watch her in sequel, well it seems we have to wait until official anouncment of star cast comes forward.
advertisement
Subscribe Newsletter
Recent Posts
Tags