Tag Archives:
Priyanka Chopra
Priyanka Chopra starrer "Dil Dhadakne Do" team has managed to grab award for most stylish flick of the year.
According to reports actors of "Dil Dhadakne Do" visited capital to collect award of most stylish flick, during the function critics add "Dil Dhadakne Do" is most stylish flick as script and starcast of movie is presented in such a way that it captures heart of audience and this movie looks very capable.
According to sources "Dil Dhadkane Do" started becoming talk of the town from very first day it went of floors, and after the release of first look audience has started showing keen interest.
"Dil Dhadkane Do" has great starcast containing Priyanka Chopra, Anil Kapoor, Ranveer Singh, Farhan Akhtar, Anushka Sharma and Shefali Shah, story of movie revolves around interpersonal behavior Punjabi Family who goes on cruise trip across the Mediterranean, movie showcase how they manage their trip.

Priyanka Chopra sign pact with American studio ABC, and there is murmur doing around the corner that actress might make her TV debut with her own TV show.
According to reports PC will be competing with other Hollywood TV superstars by making her debut on American TV with her own TV show, therefore by doing this she will be in race with other Hollywood TV superstars like Sofia Vergara (Modern Family), Sandra Oh (Grey's Anatomy) and Kerry Washington (Scandal).
According to sources Priyanka was selected by American Studio after taking her screen test in which she qualified having neutral accent which means she will not just play Indian but also a American Character.  According to sources Priyanka has signed pact with Vice President of American Studio Kelie Lee, in her interview with Lee Priyanka discussed about her Hollywood TV show.
According to source Priyanka will travel to Los Angeles next year for few months for starting her work on Hollywood TV show.
Priyanka Chopra who played role of Mary Kom in Umang Kumar's boipic Mary Kom, felt happy that Mary Kom won Gold Medal in flyweight category at the 17th Asian Games. In her bout Mary Kom defeated Kazakhstan boxer Zhaina Shekerbekova 2-0 with one judge scoring the bout 38-38 in Incheon, Korea.
Priyana chopra who played ace boxer in biopic "Mary Kom"  which showcase life journey of Mary Kom as how she manage to  became five time World boxing champion.
While taking on social platform tweeter Priyanka tweeted "Yaaaaaay!!! Now that's called Woman Power! #MaryKom gets gold..makes India Proud & shows us that we can achieve anything! #Momof3 #champion. So proud of u @mangtec u r a true champ!! My Shero! Be #Unbeatable Be #Unbreakable Be #MaryKom," the National Award winning actress posted soon after Mary Kom's win.
Priyana further said I and Mary Kom become great friends during the making of "Mary Kom" biopic. She is seemed to be great supporter of Mary Kom as day before the bout, Priyanka tweeted her support on tweeter.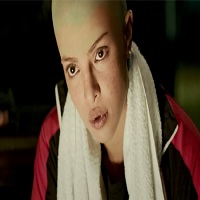 OMG Priyanka Chopra did daring act in "Mary Kom" by given bald look. One can witness her bald look in movie promos too.
While interacting with media during the launch of his movie trailer Priyanka added she felt too exciting while portraying bald look that she was all around the movie set wearing mask on his head. As according to her being a biopic it becomes her duty to give full justice to her character. According to Priyanka in real life Mary has gone bald, therefore this is an accurate scene in movie and i was very much thrilled about it.
She further added being actor, it becomes my duty to play my character with honesty, therefore i always try to give my hundred percent on-screen. Therefore when director told me to portray bald scene i immediately said yes, as i was very much thrilled to play this scene.
While answering to question that will she ever go bald in real life, No never, but there is fact that i always surprise myself doing unusual things so you never know.
Bollywood actress Priyanka Chopra who is playing a role of Olympic medalist Mary Kom is looking stunning in poster release of her upcoming biopic Mary Kom.
Its good news for Priyanka's fans that her upcoming biopic poster is released which portray Priyanak in boxer Avatar.  Priyanka's upcoming biopic is based on Olympic Medalist Mary Kom. It's happening second time when we are witnessing any biopic made on sports, before we have witnessed Farhan Akhtar's "Bhaag Milka Bhaag" which did good business at the box-office.
While taking social platform Priyanka tweeted, "Heart Blood Sweat, Soul I've given it my all. Over to you guys now!#MaryKomFirstLook#FightLikeGirl here goes.
Priyanka Chopra's upcoming biopic Mary Kom is produced by Sanjay Leela Bhansali, directed by Omung Kumar. Story and screenplay is pen down by Saiwyn Quadras
Movie portray story of Mary Kom's hardship and dedication toward boxing as how she manage to become international boxing star.
advertisement
Subscribe Newsletter
Recent Posts
Tags