Internationally acclaimed Bollywood actress Priyanka Chopra is back in India after enjoying vacation with her family and Nick Jonas.
According to sources Pee Cee has already started working on new venture 'The Sky is Pink'. which is going to be Shonali Bose's project.
According to sources upcoming project is going to showcase story of strong girl Aisha Chaudhary who manage to become motivational speaker at the age of thirteen when she gets diagnosed with immune deficiency order. It's going to be motivational story.
Recently Pee Cee took social platform Instagram to confirm the news of doing "Sky Is Pink" she shared copy of script with caption "And it begins..#prep#hindimovie."
Well it's going to be delight for her fans and viewers  who were eagerly waiting for her Bollywood comeback. Apart from Sky is Pink she is doing Salman Khan starer "Bharat"
Well from past few months we are going through news of ongoing relationship between Priyanka and Nick Jonas, however in number of news actress has denied any such report of having relationship with Nick.
However recently PeeCee is on Goa vacation with her family and rumoured beau.
One picture of Miss Chopra and Nick is doing around the corner on social media adding fire to buzz.
Actress recently posted an image on social platform Instagram in which Nick and her brother are seen having fun on beach with caption , 'Favourite men.'
Few days back both were seen going out for special dinner organized by actress for her family and friends.
Relationship of PeeCee and Nick came into light when they both walked at 2017 MET Gala Red Carpet.
Few days back Priyanka's mom was asked about ongoing relationship between her daughter and Nick, however she denied any such report.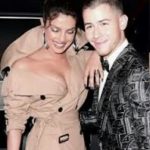 Well from past few months we are going through number of reports about ongoing relationship between Priyanka Chopra and Nick John.
According to latest report buzz of ongoing relationship started getting real when Priyanka brought Nick India to meet her mother, as her mother is very close to her, in terms of taking decisions. However some reports suggest Nick visited India for housewarming party which was organized by actress of her new bungalow that she bought recently, but there was buzz doing around the corner that he was in India for personal reasons.
However recently her mother Mrs Madhu Chopra came forward and disclosed reason behind Nick visiting India. While interacting with media Mrs Chopra was asked about her daughters choice, she replied, it was co-incident that we went out for party and there we meet Nick, however due to gathering Of 10 unknown people, I did not get much time to now much about him, as I meet him first time. Therefore it's too early to disclose my opinion.
Keeping in mind introducing Nick personally with her family and friends Priyanka planned special party last night in which she invited her close friends including Parineeti Chopra and Alia Bhatt, party was organized at her residence. However media was restricted to enter.
Well it seems we have to wait for sometime till someone come forward and announce officially about ongoing relationship between Priyanka and Nick.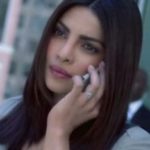 Recently Bollywood turned international star Priyanka was trolled for latest series of her on going American TV serial "Quantico" in which Indian where showcased as terrorists.
Recently actress came forward  and apologized for recent controversy, she took social platform twitter and wrote "Being a true Indian she didn't hurt the sentiments of Indians intentionally.I am feeling very sad and  sorrow that one of series of Quantico hurted sentiments of Indians, it was not done intentionally, I apologise for it. I'm a proud Indian and that will never change".
Number of her followers raised question how come she did this, being Indian she should have thought twice before doing such series, well recently production house , ABC Studios and executive producers of the TV series issued an apology for hurting sentiments of Indians.
Well we hope after going through apology tweet of Priyanka her fans will forgive her.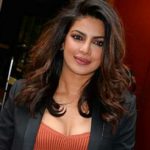 Bollywood turned international star Priyanka Chopra disclosed reason behind turning producer. Actress disclosed from past few years she was planning to bring good stories in front of audience and now it seems my dream is coming true with my upcoming production Nalini.
According to sources upcoming project is inspired from fascinating love story of Annapurna and Rabindranath Tagore. In this flick Marathi versatile actress Vaidehi Parashurami will be playing lead role and Saheb Bhattacharya will be easing role of Rabindranath Tagores character.
According to sources upcoming project will be released in Bengali, Marathi and English version. Flick will go on floor by the  first week of September, and it will be directed by renowned director  Ujjwal Chatterjee.
According to sources upcoming project will showcase love story set in 1870's when Annapurna was in her 20's and Rabindranath was merely 17 years old.
advertisement
Subscribe Newsletter
Recent Posts
Tags