Tag Archives:
Ranbir Kapoor
Ranbir Kapoor Starrer "Bombay Velvet" first promo is out and it has reached 1.5 million views in just one day, it seems 1.5 million view has set a beach mark for other movie trailers too.
According to reports Bombay Velvet promo got released on 19th March and within one day release promo reached 1.5 million views and viewing is still on. Director of Bombay Velvet Anurag Kashyan seems excited, taking social platform twitter he said "Wow what extreme reaction to the BV trailer..Fun begins.." Indeed, the fun has begun.
Best thing about this movie is Karan Johar is  making his acting debut which is going to be surprise for his fans, lead role in movie is played by Ranbir Kapoor and Anushka Sharma.
Movie is all set to release on 15th May, movie trailer is out and one can watch it right know on youtube and can share his or her opinion straightway

From past few years we are going through news regarding relationship between Ranbir Kapoor and Katrina, however both  have never come forward and declared their relationship, apart from admitting that they are good friends.
Before we came across news that both of them moved to a rented apartment, but it was said they have to do this because Ranbir's apartment is getting renovated. But if go by latest report the duo has exchanged rings on 30th December at London, it all happened when Kat was on vacations and soon she was joined by his beau Ranbir Kapoor who was accompanied with his all time friend Ayan.
If we go by reports source near to couple, and news is to be believed, sources disclosed that engagement ceremony was organized by Kat's family at their resident in London it was complete family matter, and it is also disclosed on this event Ranbir's dad and  mom  were also present.
We have heard and read number of time buzz regarding bollywood superstar and their upcoming ventures. This time there is buzz going around the corner that bollywood director Rajkumar Hirani is all set to make a biopic on bollywood super star Sanjay Dutt for this Rajkumar Hirani has approached Bollywood star Ranbir Kapoor.
According to buzz bollywood actor Ranbir Kapoor will be playing lead role in biopic which is to be featured on bollywood star Sanjay Dutt. As Talks between Rajkumar Hirani and Ranbir Kapoor is going on regarding the upcoming biopic of Sanjay Dutt. For this Rajkumar Hirani provided script to Ranbir Kapoor according to buzz after reading script Ranbir Kapoor is ready to work for biopic.
According to latest reports director Rajkumar Hirani has himself written the script of upcoming biopic after taking consent from Sanjay Dutt.
According to reports this biopic will be based on Sanjay Dutt's early life and his legal troubles.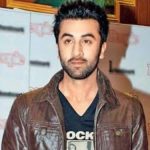 Getting hurt during shooting of movie is becoming common these days, though all kind of safety measures are taken these days during fighting and stunt scenes still injuries do happens.
This time it's Ranbir Kapoor who got injured during the shooting of movie Bombay Velvet directed by Anurag Kashyap. He got injured during the shooting of fighting sequence, though the director of movie called Hollywood fight director for the movie. According to reports while shooting for the fight sequence Ranbir Kapoor got injured as he got his Knuckles and elbow injured and he was in severe pain.
Due to the injury fighting director of Bombay Velvet suggested Ranbir Kapoor to take rest for few days as he was going through pain. But Ranbir refused to take the rest and decided to carry on to  shoot the fighting sequence. This is what we call dedication towards your occupation. And there are few stars who are dedicated toward their profession and out of the Ranbir Kapoor is one who is very much dedicated.
Though we were hearing news regarding love affair between Ranbir Kapoor and Katrina Kaif . This time they both will be seen on screen doing romance, according to reports Anurag Basu is going to rope Katrina kaif and Ranbir Kapoor in his upcoming movie Jagga Jasoos. In this movie Ranbir will be playing leading actor role. According to reports Anurag has provided movie script to Katrina Kaif.
Before we have seen both Ranbir and Katrina together in Ajab Prem Ki Gazab Kahanni, and Rajneeti.
advertisement
Subscribe Newsletter
Recent Posts
Tags