Tag Archives:
Ranveer Singh

There is news doing around the corner that Ranveer Singh is making his mind to shift to his new apartment which is close to his upcoming flick Bajirao Mastani's set.
Though there was buzz doing around the corner that Ranveer is leaving his parents home due to Deepika Padukone, but actor has different tale to tell, according to Ranveer he is shifting to his new apartment due to heavy rainfall in Mumbai, as due to rainfall actor get stuck in traffic chaos, due to which he usually get late reaching to movie sets from his parents home which is situated in Bandra Mumbai, this is the reason  he has made up his mind shifting into new apartment which is situated in Goregoon.
According to reports Ranveer is shooting at a stretch of 12 hours a day, and he is spending 4 hours for physiotherapy which doctor has advised him for strengthening his shoulder power, as we all know actor received shoulder injury while performing stunt in Bajirao Mastani.
Ranveer is kind of actor who believes in delivering his 100 percent , this is the reason he is looking forward to shift near his upcoming flick set, so that he can get more time to perform better.
Ranveer while interacting with media said he is shifting temproray after completing his movie shoot he will move back to his parental home.
These days we are witnessing number of Bollywood actors showing interest in hosting TV shows, as TV is becoming a great platform for actors to grab popularity and fan following, in a recent new we came across that  Ranveer Sing is looking keen on hosting game show but due to hectic schedule this year, as he is going through hectic shooting  schedule of his upcoming flick Bajirao Mastiani,  he has turned down the offer  of Game show, for which he was all set to do hosting.
According to reports Ranveer Singh who was all set to host game show had to turn the offer of gaming show as he has no free dates available due to his hectic shooting schedule of his upcoming flick "Bajirao Mastani" on the other hand filmmaker Leela Bhansali wants to keep secret of actor's look in movie, according to SLB disclosing looks at early stage will have negative effects, therefore he has asked the actor not to sign any TV show.
These days we are witnessing that number of bollywood actor and actress don't mind taking risk in movies, as they feel taking risk in movies make them versatile stars.
According to latest reports bollywood most happening star Ranveer Singh is all set to get bald in Sanjay Leela Bhansali's upcoming flick "Bajirao Mastani"
While interacting with media Ranveer said my fans were asking me how I can go for bald character by shaving my head in Bajirao Mastani, as you have to stay away from movies for at least one year, I answered my fans yes I know it will affect me for at least one year, I understand its great challenge for a star when he has a commitment of doing three moves in a year, and joking he added I will create history in bollwyood.
According to Ranveer star should not restrict to one style in movie as it will not make him versatile, therefore if one wants to be successful then he or she  have to accept challenging roles in movie, as challenging roles always make you versatile actor.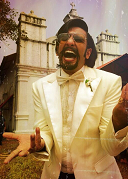 Bollywood actor Ranveer Singh is true friend, according to reports Ranveer who is said to be friend of filmmaker Homi, charged no fees from Homi for playing cameo role in "Finding Fanny". 
While interacting with media Homi  confirmed the news adding  yes it's  true that Ranveer did cameo for free in his upcoming movie " Finding Fanny".  Homi further added while I was discussing script with Ranveer he said he will play the role of Gabo (Deepika deed husband) therefore I told Ranveer that he would require him in Goa for half a day to shoot his cameo role, without any hesitation he came to Goa and did his cameo part, though Ranveer was too leave after completing his role, but he stayed back in Goa over a week after completing his role. 
Homi further added though Ranveer's role was too short-lived but it was outstanding. I had full trust on Ranveer and he did full justice to his cameo in movie.
These days being Bollywood star is not easy task, as one have to take risk and do experimentation, due to tight competition one have to prove his caliber, and this can be done by doing different role, repeating one kind of role don't work these days.
We are not talking about friendly roles, we are talking about actors stepping out of their comfort zones for different roles.
These days we are witnessing number of stars taking risk by stepping out of their comfort zones to prove their caliber, and out these actor one is Ranveer Singh, we have witnessed Ranveer taking risks, whether it is with his action, dialogue delivery, dressing   and selection of movies. He is kind of star who likes trying his hands on different zones from very first movie "Band Baaja Barat" to his latest flick Raam Leela. He has loud and energetic personality. He don't mind doing challenging role as in his upcoming flick "Dil Dhadakne Do" he will play a role of Priyanka's brother and in Bajirao Mastani he will play his husband, this is what we call transformation and experimentation.
advertisement
Subscribe Newsletter
Recent Posts
Tags