Omg Bollywood versatile actor Ranveer who is riding high due to his back to back three blockbuster projects, has decided to work on profit share basis with producers in future.
According to sources for upcoming historical biopic 83, Ranveer has signed profit share agreement, as he will not be taking any fees for the project, he will only share profit with producer.
Well we all know in upcoming project actor is going to play role of Cricket Legend Kapil Dev. Well it seems actor has become calculative, as he is well aware of fact that upcoming project is going to beat all box-office records due to viewers being crazy for cricket.
Well it seems considering fact that upcoming biopic 83 is going to be made on big budget, actor has decided not to put burden on filmmaker, so he has decided to go for profit share basis.
According to sources actor is taking special training from cricket specialist, so that he can justify role he is going to play.
Well from the very first day news of Ranveer Singh putting up with Deepika at her residence after marriage came into existence  has started creating speculation why he is staying at DP's residence.
According to actor has done so that actress don't feel displaced, for the same he decided to shift to her residence, as its her place and she feel comfortable, as being husband it becomes his duty to make her feel comfortable.
Some reports suggest Ranveer is staying at Deepika's resident as they are looking for new home.
Well this is call true husband who always look forward to give comfort to his wife.
Recently actors Simmba got released movie managed to become blockbuster hit. Right now actor is busy with his upcoming project Gully Boy in which he is easing role of rapper.
We wish actor Happy married life.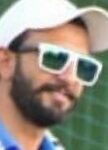 As we all know Bollywood versatile actor Ranveer Singh is going to ease role of Indian legendary cricketer Kapil Dec in upcoming biopic 83 based on Cricket World Cup won by Indian in 83.
According to sources as actor is going to ease role of legendary Indian cricket captain Kapil Dev, for the same actor will go for special training in Cricket by experts Kapil Dev, Madan Lal etc.
Recently actor came forward and confirmed his on going training by posting some clicks on social platform Instagram, one can witness actor practicing in net.
Best thing about upcoming project is that it will have only action and background score.
While interacting with media filmmaker Kabir Khan assured that upcoming sports biopic will contain real script no extra ingredients will be added , viewers will only get real feel  of 83 World Cup.
Biopic will go on floor very soon and it will release in 2020.
Simmba fame Ranveer Singh who is right now enjoying great success of his latest flick Simmba put stage on fire with his hot dance moves.
Simmba has managed to become blockbuster hit by crossing 200 crore mark in very short period and there are reports doing around the corner that in upcoming days movie is going to cross 300 mark.
Recently filmmaker Karan Johar hosted Simmba success party at his place.
According to sources during a success party of Simmba actor impressed guest with outstanding performance.
Number of photos and videos from success party got viral online, making fans crazy with outstanding dance performance, in one of vedio actor is seen putting stage on fire.
This is actors first flick which managed to cross 200 crore mark.
We congratulate Entire team of Simmba for great success of Simbba actor is right now busy with his upcoming project Gully Boy opposite Alia Bhatt.
Ranveer Kapoor starer action thriller Simmba manage to collect 75 crore in weekend.
According to sources Simmba managed to collect 20.72 crore on the opening day and Rs 23.33 crore on the second day. On Sunday movie managed to collect 31.06 crore taking total to Rs 75.11 crore.
According to sources trade analyst has predicted that very soon movie will manage to cross hundred crore mark.
Best thing about Simmba is that it's Sara Ali Khan's second flick, she recently received great applause for her outstanding performance in Kedarnath, and she is also receiving positive reviews from critics and viewers for her outstanding performance in Simmba.
Simmba is  remake of Telugu blockbuster hit Temper.
Simmba is directed by Rohit Shetty and produced by Bollywood versatile filmmaker Karan Johar.
While interacting with media maker of flick disclosed he is feeling happy with response movie  is getting, he further said it was possible due to hard work of entire Simmba team.
advertisement
Subscribe Newsletter
Recent Posts
Tags