Well we all Know Bollywood actress Richa Chadha who is known for justifying role is right now working on his upcoming most awaited project "Shakeela".
According to source in upcoming project in one of sequences she is required to perform tribal belly dancing for the same she is leaving no stone unturned to give perfection to it.
According to sources for giving perfection to belly dancing actress has started taking special training in tribal belly dancing by experts.
According to sources actress recently joined tribal belly dancing workshop in Kazakhstan. Workshop was conducted by tribal belly dancing expert Olga Meos.
While interacting with media actress disclosed she was not aware of this kind of belly dancing, however while going through research she came to know about it, dance came into existence when group of gypsy woman travelled to Eastern coast of India. Triable belly dancing is mixture of Odissi and Kalbeliyan dancers, after going through this dance I got so fascinated this is the reason I made up my mind to get perfection in this dance form so that I can justify dance number.

Bollywood actress Richa Chadha who is all set with sports oriented project "Panga", is leaving no stone unturned to get into skin of character to justify role.
Well Richa is all set to ease role of Kabbadi player in upcoming project "Panga" for the same she is taking training from professionals in Mumbai.
According to sources recently actress came across local Kabbadi players from Chandigarh, Ranchi and Patna. Well actress despite taking short cut for learning Kabbadi technique taking help of online platforms, she went for real training by personally meeting Kabbadi experts to understand technique and body language.
Recently actress while interacting with media shared her knowledge she said "From past few months I am taking training from coaches and players, for this I visited different cities and towns it helped me lot to get into skin of Kabbadi player, I am happy that I am going to justify role I have been given.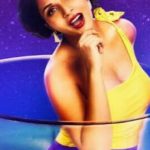 As we all know Bollywood versatile actress Richa Chadha who is well known for her performance in Fukrey is all set with biopic based on controversial adult star and dancing diva of South Shakeela.
After releasing first look of flick in November actress recently revealed second poster of flick in which you can witness actress basking out from glass of Whiskey. She is looking stunning and hot.
Poster that she shared has a tag line "Iss Saal Ka Jaam, Shakeela Ke Naam."
Upcoming project will showcase life story of Shakeela how she manage to become South superstar and dancing diva.
However maker of flick has not revealed releasing date of flick. Well for the same we have to wait for sometime.
Upcoming project is directed by Indrajit Lankesh and produced by Sammy's Magic Cinema in collaboration with Yoddhas Entertainment.
Bollywood versatile actress Richa Chaudha on her 32 Birthday received surprising birthday gift from her boyfriend  yes you heard right according to sources her boyfriend Ali Fazal took actress on surpries vacation prior to her birthday.
According to sources however both Ali Fazal and Richa Chauda are going through busy schedule, but they both took some time off from there busy schedule and took off to Maldives to spend some leisure time.
According to sources on work front both the stars are busy with their ongoing project. Richa Chadha is right now busy with her most awaited biopic "Shakeela" and Ali Fazal is busy with two projects 'Milan Talkies' and 'Prassthanam'.
According to sources for upcoming project Shakeela actress is leaving no stone unturned to justify her role.We wish both the stars has great vacation and wish Richa a very happy birthday. And wish her great success.

Well these days promoting flicks has become latest trend in bollywood, for the same crew members always come forward with unique idea, well taking into consideration of unique idea for promoting flicks Bollywood actress Richa Chadha is learning new dance skill for promoting his upcoming biopic "Shakeela".
According to sources actress is looking forward to shoot special song which will be used for promotion of upcoming biopic "Shakeela".
According to sources for justifying special dance number actress is taking special training from experts, according to sources actress is going to do belly dancing in promotional song, she is taking belly dance training from belly dance expert Shaina Lebana who runs dancing school in Mumbai.
Recently actress came forward and disclosed "I am feeling excited to learn belly dance for special song which will be used for promotion of my upcoming biopic, when it comes to dance I always like learning new forms. Well belly dance is not easy dance for the same you need great stamina and flexibility. Shaina Lebana is great belly dancer, I am feeling happy to be her student.
advertisement
Subscribe Newsletter
Recent Posts
Tags