Well from past few days there were reports doing around the corner that Saif Ali is looking forward to ease unique avatar in Navdeep Singh's directorial venture "Laal Kaptaan", for that very day fans of actor were eagerly waiting for actors first look from his upcoming project "Laal Kaptaan".
Wail wait seems to be over as recently filmmaker revealed first look of Saif in which you can witness actor easing role of Nanga Sadhu, well its going to be interesting character which fans and viewers will like to watch.
While interacting with media Aanand L Rai disclosed that his upcoming project is going to be of new genera which will contain story of its own kind, I hope viewers will appreciate it.
According to sources as picture is going to be full of action, for the same actor has taken special training in sword fight by experts.
On work front Saif is right now busy with his upcoming project Jawaani Jaaneman and Tanaji : The Unsung Warrior.
Laal Kaptaan is all set to release on 6th September.
Bollywood actor Saif Ali Khan is all set to produce his upcoming project "Jawaani Jaaneman" in which he is going to play lead role.
According to sources actor is going to collaborate with his old time friend Jay Shewakramani for producing "Jawaani Jaaneman" under his production banner Black Knight.
While interacting with media actor said "I am feeling glad that I am going to produce flick with my old time friend Jay Shewarkramani, my upcoming production is going to be family comedy which will give you slice of modern family life which to some instinct well give viewers real feel of family comedy".
Well few days' back we came across news that father daughter bounding will be witnessed in upcoming project as Saif Ali Khan is going to play on screen father of Sara Ali Khan. Well recently actor denied any such report by adding "I would have loved to have Sara in my upcoming project, but it's not happening as she is doing well in her field and I am in my field. Well I hope in future we might do flick together.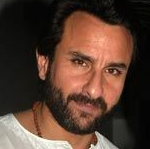 Well few months back we came across news that Imtiaz Ali is looking forward to make sequel of Saif Ali Khan starrer "Love Aaj Kal" and for the same he has approached actor to ease role of Kartik Aaryan's father.
Recently actor came forward and disclosed, yes I was approached by Imtiaz Ali for upcoming sequel, but till date I have not given node to sequel. Well I like playing different avatars, as it makes you versatile, well I was pleased with Imtiaz offer for "Love Aaj Kal" sequel, well I want to clear buzz of signing project, I was approached but I have not signed Love Aaj Kal" yet.
Actor further disclosed I am  feeling excited to watch my daughter Sara Ali Khan working with Imtiaz Ali Khan and Kartik Aaryan.
On work front Saif Ali Khan has number of project in his kitty like Sacred Games 2, Taanaji: The Unsung Warrior, Jawani Janeman, Bhooth Police and Hunter.
We wish actor good luck for his upcoming projects.
Bollywood actor Saif Ali Khan who few days back disclosed "That he too was victim of harassment during his struggling days", this statement he gave while talking about #MeToo movement.
Well we all know "MeToo movement has opened dark secret of Bollywood celebrities who have been victim of sexual harassment and name of those who have been accused for sexual harassment.
As we all Know Saif Ali Khan's daughter Sara Ali is making her Bollywood debut, taking into consideration of her daughters debut actor disclosed he believe no one can mess with his family member, well taking into consideration of our reputation i don't think anyone will try to mess with family.
While concluding his interaction with media actor said "Well time has come to provide protection to those ladies who have no one to protect them, for the same we have to make workplaces safe by providing security and organizing awareness workshops for them, than only this world will become better place for women.
#MeToo movement has become essential platform for woman who have been sexually assaulted and harassed by employer at work place, well from the very first day #MeToo movement came into force number of women including actress have come forward and disclosed name of Key members of Industry who have done misconduct with them.
Recently bollyood actor Saif Ali came forward and said he stand united with women who have come forward and shared stories of sexual harassment as he himself has gone through this pain.
Actor recently shared when he made his bollywood debut he also faced harassment, however it was not sexual assault, but I have been victim of harassment, he further said he was harassed during his acting career, not sexually, whenever I go back and think about harassment I feel angry. I have not talked about it publically because I am not important today, well I can feel pain of women who have been victim of sexual harassment. Well right now it becomes our duty to come forward and support #MeToo movement so that accused can be sent behind bars.
After going through above news fans of Saif Ali khan will appericate actor for coming forward and supporting #MeToo movement.
advertisement
Subscribe Newsletter
Recent Posts
Tags