Tag Archives:
Shah Rukh Khan
Bollywood Star Shah Rukh Khan is going to act with Sonam Kapor in Rahul Dholakia's upcoming movie 'Raees'. This is first time when both SRK and Sonam Kapoor are sharing screen together. Though there is huge age difference between SRK and Sonam but when it comes to acting SRK's age does not matter as he look perfect when it comes to performing a romantic scene, before we have seen SRK doing number of romantic movies with young actresses.
According to reports Excel Entertainment has clarified that Sonam Kapoor is going to pare with SRK in their upcoming movie 'Raees'. In this movie audience will witness Shah Rukh Khan in new Avtar along with Farhan Akhtar who will be playing major role 'Raees'. In this movie SRK is going to play a role of smuggler and Farhan Akhtar is going to play role of Cop, before we have witnessed Farhan Akhtar and SRK together in Don Series, there acting in Don series was well appreciated by critics and audience. Shooting of Raees is all set to start in Mid of this year and is all to release on Eid in 2015.
Bollywood superstar Shah Rukh Khan got injured during the shooting of his upcoming movie 'Happy New Year'. Though injuries do happens number of time while performing stunt scenes in movie, but some time freak accident do happen on sets of movies  too.
According to reports Shah Rukh Khan got injured while he was performing scene of his upcoming movie 'Happy New Year' with his co-stars. He got injured when heavy door came straight way down and hit on his forehead, he was unable to escape, due to this door hit his forehead after door hit his right side of his forehead his forehead started bleeding profusely, while trying to escape he got injury on his knee too. Due to this he was crying with pain. He was immediately rushed to Nanavati Hospital by crew members; were he was  given necessary medication.
According to reports some tests were conducted by doctor on Shah Rukh Khan in Hospital including CT Scan and MRI. It took about four hours after four hours Shah Rukh Was discharged from hospital. Though CT Scan and MRI scan are still awaited. After getting discharged from hospital, Shah Rukh Immediately rushed to the Sets Of 'Happy New Year' therefore shooting was resumed. This is what we call dedication towards work.
Bollywood Actor Farhan Akhtar and Shah Rukh Khan are ready to share Silver Screen together. As we all know both the actors managed to capture the heart of audience and critics and created history in bollywood cinema. Recently we saw Farhan in 'Bhaag Milkha Bhaag' and SRK in 'Chennai Express' both the actors did brilliant job and there movie's created history at the box-office. Before we have seen both Farhan and SRK's work in Don 2, in this movie Farhan was producer and SRK played lead role and their work was very much appreciated by audience.
According to latest news Shah Rukh Khan and Farhan Akhtar both are coming together once again in Rahul Dholakia's upcoming movie Raees.  In this movie SRK is going to play a role of bootlegger who has a Gujarati background, and Farhan Akhtar will be playing a role of cop. And in this movie Farhan Akhtar will be seen chasing SRK.
According to reports director of movie Rahul Dholakia added that Raees is all set to go on floor in 2014 mid, and will be released in 2015 on the Eve of Eid. This movie will be produced under the banner of Excel Entertainment.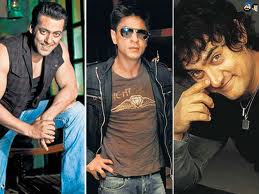 It seems that war between the three khans has started as according to latest reports there is buzz that Aamir Khan seems very much confident that his upcoming movie Dhoom 3 will create a new collection record at the box office breaking Shah Rukh Khan's Chennai Express record  at the box office.
On the other hand there is a buzz that Salman Khan says his upcoming movie will break all the records of Ranbir Kapoor, Amir Khan and Shah Rukh Khan Movie's.
It seems that SRK's Chennai Express box office collection record has started war between Khans.
But the fact is that audience want quality and significant movies.
Bollywood Stars don't get enough time to spend time with their families due to busy and hectic schedules. But some stars do find some spare time to have fun with their family.
Shah Rukh khan is also going through busy and hectic schedule, he want to spend some time with his family particularly with his new born baby Abram. As he will be getting busy with his next movie Happy New Year.
According to reports Shah Rukh disclosed that he don't get time to spend with his son Abram, he further said that he is not allowed to see his son as he is under observation and kept in sterilized room due to  infection problem  therefore it will take one month more to cure completely from infection.
As soon as my son gets discharged from the hospital I will like to spend most of the time with him said Shah Rukh.
advertisement
Subscribe Newsletter
Recent Posts
Tags