Tag Archives:
Shahid Kapoor
Bollywood star Shahid Kapoor made his father's birthday memorable. According to reports Shahid on occasion of his father Pankaj Kapoor's 60th birthday bash, actor gifted his father a brand new Mercedes.
According to reports Pankaj Kapoor confirmed that news of Shahid gifting him a car is true. I am feeling delighted that my son made my birthday memorable. Pankaj Kapoor further added that he is feeling lucky that entire family came forward to celebrate my birthday and that too in a big way. I feeling proud parent.
Apart from his son my wife Supriya Pathak gifted ample of gifts. She gifted me about 153 gift which is huge quantity, but disclosing what kind of gifts I received from wife is not possible.
Other guest who present on birthday bash were Vidya Balan, Dia Mirza, Vidhu Vinod Chopra ,Sudhir Mishra last but not the least  both the son's of my best friend Naseeruddin Shah.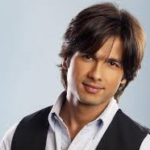 These days in bollywood number of stars are entering into production and direction; it seems they don't want any filed to be missed. According to reports this time its Shahid Kapoor who is going to try his faith in production as he is going to produce his upcoming movie 'Haider', before it was Anushka Sharma who entered into production.
According to reports Shahid Kapoor had made his mind to produce his upcoming movie 'Haider'. This movie is based on popular Novel 'Hamlet' and this is third series which is going to be produced by Vishal Bhardwaj. According to reports Shahid is going to share 33 percent production partnership with Vishal Bhardwaj and UTV which is going to be equal partnership. According to reports Shahid Kapoor has decided that he will not go for taking credit as producer instead he entered into production because he is confident of his upcoming movie and luck.
First half of this movie has already been shot in Kashmir and second half will be conducted in end of January in Kashmir due to bad weather conditions in Kashmir. Therefore they will resume their movie shot after weather conditions improve.
We wish Shahid Kapoor Good Luck for his upcoming production 'Haider'.
Bollywood actor Shahid Kapoor at last managed  to delivered a blockbuster hit R..Rajkumar' as before he was going through number of flop movies, he said he is feeling relaxed, as his movie R..Rajkumar became a hit and captured the heart of audience. He thanks God that at last he got one Hit on cards after a gap of 4 years.
According to reports Shahid Kapoor last hit Kaminey which was released in 2009 did a good job at the box office, after that its R..Rajkumar that became blockbuster hit. His flops were 'Chance Pe Dance', 'Mausam', 'Tere Mere Khaani', and his latest flop was 'Phata Poster Nikla Hero'.
According to reports in an interview Shahid Kapoor added that till date he has not done this kind of massy movie where audience while watching applauded and whistled on every dialogue which I delivered.  Shahid Kapoor added I am happy that my father appreciated my work in R..Rajkumar and he is happy that my movie did good job at the box-office.
According to latest reports this movie managed to earn 64.43 crore in first two weeks which is good collection for any hit movie.
Releasing : 6th Dec 2013
Genre      : Action
Producer  : Sunil A Lulla, Viki Rajani
Director   : Prabhu Dheva
Star Cast : Shahid Kapoor, Sonakshi Sinha, Sonu Sood
Music      : Pritam Chakraborty
This movie is fully action packed with awesome stunts and action. In this movie Shahid kapoor depict a gunda look. In this movie Sonakshi Sinha will be seen doing fighting sequence. Villian role will be played by Sonu Sood. As this movie is directed by Prabhu Dheva so it's obvious that Shahid will be seen doing awesome stunts. Apart from stunts Shahid Kapoor will be seen dancing awesomely as choreography is done by Prabhu Dheva.
Bollywood Director and Choreographer Prabhu Deva seems impressed with Shahid kapoor very much that he is looking forward to do more projects with him.
In an interview during the launch of music album Prabhu Deva Said I am very much impressed the way Shahid Kapoor dance in "R Rajlumar", he said shahid has a tremendous energy when it comes to dancing. He said it was great experience working with such a wonderful actor therefore I am looking forward to do more projects with him, though it's not clear when we will work together but whenever he has free schedule I will surely work with him.
During the music launch of "R Rajkumar", Prabhu deva said Shahid did everything according to plan. According to director Prabhu deva it was clear that no matter what kind of song it may be Shahid will perform well and he did so. He did good dancing steps in songs "Gandi Baat" and "Saree Ke Fall Say". According to director as Shahid is good dancer therefore it becomes easy to work with him as he understands requirements of chorographer.
"R Rajkumar"  is all set to release on 6th Decemeber 2013.
advertisement
Subscribe Newsletter
Recent Posts
Tags