Tag Archives:
Shraddha Kapoor
Shraddha Kapoor after receiving great applause from audience for her role in "ABCD 2" is looking excited to start working on her upcoming project "Baaghi".
In Baaghi Shraddha is going to share screen with Tiger Shroff, movie is going to be directed Sajid Nadiadwala in beginning of August.
While interacting with media Shraddha said, she is feeling too excited to work with Tiger and entire movie team, she further said i met tiger and crew member of Baaghi before its going to be fun working with them. Tiger and Sajid are good natured and fun loving guys, so it's going to be great fun working with them.
According to reports right now Shraddha is preparing for her role, work on her looks and costumes is on progress, as soon as everything get finalized she will start shooting for "Baaghi".
Shraddha Kapoor feels proud to be part of "Haider"as this movie received five National Film Awards, which is great achievement for everyone involved in making of Haider.
While interacting with media Shraddha said she is feeling happy that her movie "Haider"managed to receive five National Film Awards in a row. She further added I hope one day I will also receive National Award, as every actor has dream that one day he or she might receive National Award in lifetime.
While concluding her interview with media she added I am keeping my fingers crossed, keeping in mind that one day I will receive National Award.
Sharddha is a outstanding actress and we have seen her marvelous performance in movies like "Aashiqui 2", "Ek Villian" and "Haider" therefore we hope that one day she will manage to receive National Award, we wish her a good luck.
Ashiqiui 2 fame Shraddha Kapoor who is sharing screen with Varun Dhawan in ABCD 2, revealed her chemistry with her childhood friend and co-star Varun is natural when it comes to on-screen.
While interacting with media Sharddha said her chemistry with Varun in ABCD 2 is natural, Varun is good listener he made me feel comfortable on sets of ABCD 2. She further said I have watched Varun's Badlapur trailer he has very bold looks in movie, I liked his looks. I got stunned after watching badlapur treasure, he is outstanding.
Sharddha further said we have completed 50 percent shooting of ABCD, therefore our bounding is getting strong day by day, I would love to spend New Year with Varun Dhawan and crew members of ABCD 2, though till date I have not made any plans how to celebrate New Year in Las Vegas. So I have left everything on Remo sir being a captain of ship he will decide how and where to celebrate New Year.
Bollywood celebrities Shraddha Kapoor, Shahid Kapoor and filmmaker Vishal Bhardwaj are lending their hands for good cause. Recently they were seen on Kaun Banega Crorepati during their visit to Kaun Banega Crorepati they won Rs 3,20,000, which they decided to donate to Kashmir for helping flood victims.
As we all know there upcoming flick "Haider" has been shoot in Kashmir, due to which they decided, it's right time to payback the love they received from people of Kashmir. Therefore while promoting their movie on Kaun Banega Crorepati set they decided that money they won will be donated for the sake of helping Kashmir flood victims.
We salute Shraddha Kapoor, Shahid Kapoor and Filmmaker Vishal Bhardwaj for taking concern toward Kashmir flood victims.
During the show Shraddha Kapoor, Shahid Kapoor, Vishal Bhardwaj along with Amitab Bachchan made an appeal to everyone to come forward and donate money for the wellness of Kashmir flood victims.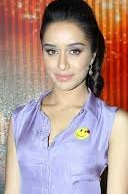 Ashiqui 2 fame Shraddha Kapoor who has skinny body is looking forward to get muscular body for her upcoming movie "ABCD 2".
While interacting with media Sharddha said that Remo D'Souza has asked her to get muscular body, as it is script requirement of his upcoming movie "ABCD 2". She added I am on strict diet and doing regular gym for getting muscular body.
She further added she is feeling nervous about dancing in movie as according to her matching dance steps with her co-star Varun is not easy task as he is outstanding dancer. But there is excitement going on within me as Varun is very good friend of mine, therefore sharing screen with him is like dream come true.
"ABCD" is a sequel of "AnyBody Can Dance". In first part of ABCD we witnessed  Dance India Dance contestants, but in "ABCD 2" we will witness Varun and Shardha performing  dance steps.
advertisement
Subscribe Newsletter
Recent Posts
Tags