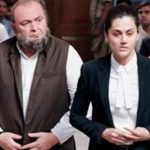 Pink fame Taapsee Pannu is all set to play new Avatar in upcoming project "Mulk".
According to sources in upcoming project Taapsee is going to ease a role of lawyer.
According to sources actress is leaving no stone unturned to justify her role in "Mulk".
From the very first day maker of flick announced that Taapsee is going to play lead role in upcoming project Mulk , her fans were feeling excited to go through first glimpses of flick and now it seems wait is over.
Recently actress took social platform Twitter for sharing first look of flick, in first look she is seen having conversations with Rishi Kapoor in court.
According to sources in upcoming project she is going to play a role of Rishi Kapoors daughter-in-law. It's happening first time when she is sharing screen space with Rishi Kapoor.
According to sources Mulk is inspired from true event of joint family fighting for honor.
Well we all are aware of Taapsee Pannu's verstality as an actress, she always gives her hundred percent. On work front this year she is shooting for number of projects. However it's still April actress has started working for Telugu project two Bollywood projects Mulq and Manmarziyaan.
According to sources right now actress is spending leisure time in the beautiful countryside of Punjab connecting with her mother land. She is in Punjab with her Co-star Vicky Kaushal who is very much Punjab by birth , that's the reason they having leisure time on the set of their upcoming project.
Being Punjabi's by birth both the stars share Punjabi culture in terms of food, music and culture.
According to sources, Taapsee Pannu has great hold on Punjabi as she is reading and writing Gurmukhi since her childhood. Therefore putting skill to good use, she has become mentor of Vicky and started mentoring actor how to read and write Gurmukhi during the shot of Manmarziyaan in holly city Amritsar.
While interacting with media actress disclosed `I was surprised to know how well in Punjabi Vicky is. Being in Mumbai I have never got chance to hear someone speaking in Punjabi. Well it was fun time in Amritsar as almost every signboards and hoardings was in Punjabi, taking into consideration we started having fun reading signboards.
Well actress proved she is good mentor too.
Due to busy schedule of Taapsee Pannu maker of flick is going through tough time as he is unable to figure out exact time for promotion of flick.
According to sources actress is going through busy schedule due to number of commitments as she is right now working for Manmarziyaan and Adhi Phinnishetty's upcoming project in Mulk and working for two brand commercial.
According to sources taking busy scheduele of Taapsee in mind maker of flick making sure that actress get ample of time for promoting and marketing of upcoming project Manmarziyaan.
According to report apart from Manmarziyan Taapsee Pannu is looking forward for release on her upcoming flick "Mulk" which is also set to release by mid of this year, in this flick she is easing a role of Lawyer, apart from this she will be witnessed in Soorma.
Well Taapsee Pannu has number of time proved when it comes to action and stunt she always gives her hundred percent, however recently actress got injured while performing stunt scene, she got injured performing car crash scene for "Dil Junglee".
According to sources in car crash scenes it was required that all the stars of flick will be traveling in car, after travelling from few miles car has to fall in river and start sinking, it all happened when car jumped into river, actress received injury.
According to sources Taapsse got injured while performing stunt, according to sources car was hanging with ropes partly drown in river, and actress was supposed to survive breaking sunroof of car, however accidently door of car opened, she lost balance and fell down as she was hanging on door, she got her right calf bruised badly, well it was serious injury as lot of blood was lost, and bleeding was unstoppable. However after doctor arrived he immediately gave tetanus injection and first Aid to actress, after which crew member felt relaxed as situation was under control.
Sources further disclosed it was lucky day for Taapsse that she had a narrow escape. After relaxing for few hours she resumed the shooting and completed shoot.
As we all are well aware of the fact that Taapsee Panu is sharing big screen with Diljit Dosanjh upcoming biopic "Soorma" in which Diljit is going to portray a character of former Indian Hockey captain Sandeep Singh.
Recently Taapsee took social platform Twitter and Tweeted "And that's a wrap of Indian schedule of #Soorma closing toward the final pack up call and ready to present to you this gem of a story on #29June2018.
In upcoming biopic you will watch Pannu playing Daljits onscreen love interest. Biopic is been directed by bollywood versatile director Shaad Ali.
Recently we watched actress in Judwaa sequel in which she shared screen with Varun and Jacqueline, movie received positive reviews from critics and viewers and it managed to enter 100 crore club.
When it comes to acting Taapsee is versatile actress she can portray any kind of role with ease.
advertisement
Subscribe Newsletter
Recent Posts
Tags