OMG Taapsee revealed number of people discouraged her before opting "Saand Ki Aankh.
Well in upcoming project both Taapsee and Bhumi is easing a role of 60 year old sisters Chandro and Praskashi Tomar both known as sharpshooters, who won number of awards in shooting making nation proud.
She said from the very first day she confirmed that she is going to be part of "Saand Ki Aankh" she got trolled and received call from near dear ones asking me to quit this project as this project might not work at box-office, lots of them said working in project where is no hero and that too playing a role of 60 year old women, is stupid idea. She further said if she would have not be approached for the flick, still she would have dreamt of working in this project as it shows women power.
She further said getting into skin of character was not easy as she along with Bhumi went for prosthetics makeup which require patience and hardship.
Well movie is going to have tough completion with Housefull 4 and Made In India.
Movie is all set to release on 25th October.
Well it was excitement day for Bollywood actress Taapsee Pannu who is all set with upcoming project Saand Ki Aankh.
Yes it is excited moment for actress as her latest project got U certificate from Censor Board.
Recently actress shared U certificate released by Censor Board on twitter with her fans with tweet "This Diwali ONE film that assures you are going to have a good time at movies with your ENTIRE FAMILY #SaandKiAankh cleared with a clean U certificate Ab daadiyo ki movie bachcho ke bina kaise release ho sakti hai"
Recently actor appeared in Akshay Kumar starrer first space project based on ISRO Mission Mangal, for the same actress received great applause from her fans and critics.
Sand Ki Aankh will showcase story of Chandra Tomar and Prakashi Tomar well know sharpshooters who made country proud by winning number of medals and old age.
In upcoming project Taapsee is sharing screen space with Bhumi Pednekar and Vineet Kumar Singh.
When it comes to perfection Bollywood actress Taapsee Pannu always gives her hundred percent, well right now actress is busy with upcoming biopic based on world's oldest sharp shooters Chandro and Prakashi Tomar titled "Saand Ki Aankh".
In upcoming project Taapsee is easing role of Prakashi and her co-star Bhumi Pednekar is easing role of Chandro..
While interacting with media she disclosed for giving perfection to her role and understanding body language she stayed in johri and spent few days with Chandro and Prakashi. Both Chandro and Prakashi shared number of stories with her, I learnt lot of things from them.
Well viewers and fans will feel real touch of Character as most of jewellery that actress is carrying in upcoming project is borrowed from wardrobe of real characters.
Taapsee Pannu's upcoming projects are Mission Mangal, Tadka, Game Over.
Upcoming "Saand Ki Aankh" is all set to release on coming Diwali.

Bollywood versatile actress Taapsee Pannu is all set with another biopic, this time she will be seen playing lead role, recently she did Soorma in which she played role of hockey player, movie was based on life story of former Indian Hockey Captain Sandeep Singh, In this biopic Diljit Dosanjh eased role of Sandeep Singh.
According to sources actress is all set to step into shoes of Indian women cricket captain Mithali Raj who has set a record by crossing 6000 run mark in women's One Day International cricket.
According to sources actress has verbally agreed to work on upcoming project, however she has not yet signed any agreement with filmmaker, according to sources maker of flick is right now working on script once script get ready she will sign agreement with filmmaker.
Some of us may not be aware of Mithali Raj she is first Indian women cricketer who has crossed 6000 run mark in ODI.
Well if news of upcoming project is believed to be true than its going to delight for her fans to watch her easing role of India Cricketer Mithali Raj.
It seems we have to wait for some time till official announcement of upcoming project comes into light.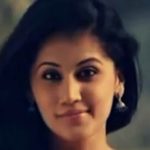 As we all know Bollywood versatile actress Taapsee Panu is all set with "Sand Ki Aankh" project is based on real life story of world's oldest sharp shooters.
According to sources actress is right now Shooting first schedule in Johri village situated in Uttar Pradesh.
Recently while interacting with media actress disclosed for her upcoming project sand Ki Aankh she is taking training in shooting, for the same every day she go with her coach on shooting range early morning so that she get into skin of character, as shooting is not childs play for getting perfect one needs petiance and dedication. I thanks my coach for making me perfect to justify my role.
While concluding her interaction actress said this is one of toughest role that I have ever played in my entire career. I hope viewers will appreciate my hard work.
advertisement
Subscribe Newsletter
Recent Posts
Tags