Tiger Shroff who is right now enjoying success of his latest release "WAR" in which actor shared screen space with Super 30 star Hrithik Roshan, well movie has managed to collect 300 crore at the box office, actor managed to acquire 5th place in popularity overtaking Varun Dhawan and Ranveer Singh. Well tiger is kind of actor who is hard working, and like to take new challenges and do next level action which has made him one of the grossing star of Bollywood industry. Well when it comes to action actor has created new level. On work front actor is right now busy with shot of upcoming third installment of Baaghi series in Serbia. In this project he is collaborating with Shraddha Kapoor second time. Upcoming project is being backed up by Sajid Nadiadwala and helmed by Ahmed Khan. Bagghi 3 all set to release in March 2020 on 6th. We congratulate actor for grabbing fifth position.
Good news for fans of MMA night, yes its going to be good news as Krishna Shroff and Tiger Shroff is all set with third edition of Matrix Fight Night Back.
Well recently Tiger along with Krishan opened MMA second gym in Bariely and first one was open in Mumbai last year which received great response.
Well second edition MMA Night Fight took place in Delhi and now it will return to its real location in Mumbai.
Well according to sources tickets of upcoming third edition are on sale online, Matrix Fight Night will take place in Mumbai on December 20th.
Well its Tiger who brought recognition to MMA in India, and he is doing his level best that MMA Matrix gym reach to every fans for the same he is planning to open more MMA Matrix gyms across India.
Well we hope after going through above news fans of MMA Fight Night will be feeling delighted to watch Matrix fighter in action.
Bollywood most happening martial art expert actor Tiger Shroff, who is enjoying great success of his latest released project recently opened about preparing action sequences and stunts.
Well recently we watch actor performing daring stunt and action sequence opposite Hrithik Roshan in War.
Well Tiger is all set to start second schedule of his most awaited project "Baaghi 3, for the same he is all set to visit Serbia, according to sources in upcoming viewers are going to witness actor in high octane action sequences.
Well while interacting with media actor disclosed how he get ready for action sequences, he said for giving perfection to stunt he do plenty of rehearsals, by doing repetition and focusing. Regular practice and repetition make me confident and make my muscle flexible and give perfect move.
We wish actor good luck for his upcoming projects.

Bollywood actor Tiger Shroff who is right now enjoying his first outing with Hrithik Roshan "WAR", recently inaugurated second MMA gym.
Well actor once again proved he has great fan following, well recently actor got mobbed by fans when actor came out in Bareilly along with his sister and Coach to inaugurate second MMA gym.
According to sources actor felt happy and excited to watch his fans surrounding him and chanting his name
Well last year actor and his sister Krishna Shroff opened their first MMA gym in Mumbai. And recently actor opened second MMA gym in Bareilly; main aim of MMA gym is to teach self defense techniques to girls and women.
It was actor and his sister who introduced MMA in India.
Some of us may not be aware of fact that both Tiger and Krishna are mixed martial art experts.
We congratulate Tiger and Krishna shroff for opening second MMA  gym.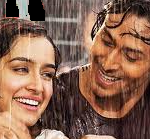 As we all know Shraddha is all set to collaborate with Tiger Shroff for third installment of most happening franchise Baaghi.
Well before them both collaborated for first installment of Baaghi, however due to busy schedule of actress she was dropped from second Installment and she was replaced by Disha Patani.
In upcoming third installment viewers are going to witness Ritesh Deshmukh playing negative role.
This time maker of flick is looking forward with new locations for shot, taking into consideration for the same maker of flick Ahmed Khan recently visited Georgia, Turkey and Siberia.
According to sources filmmaker has finalized Georgia and Siberia for shot of third installment of Baaghi 3.
Shraddha Kapoor and Tiger Shroffs chemistry in first installment received great applause from viewers and critics.
Well in third installment you will witness Shraddha in full action, for the same she took special training in mixed martial art from experts.
Upcoming third series will go on floor by mid of October in Georgia and Siberia.
We wish good luck two both stars for upcoming project.
advertisement
Subscribe Newsletter
Recent Posts
Tags