Well few days back we came across news that Varun Dhawan is once again going to collaborate with his father for a remake, as we all know before Varun collaborated with his father David Dhawan for remake of Judwa, and now he is going to collaborate for another remake which is going to be remake of Govinda's blockbuster hit Coolie No 1.
However it was disclosed that maker of flick is looking for a leading lady who will join Varun for upcoming sequel, well there were speculations doing around the corner that he might be paired opposite his lucky charm Alia Bhatt, well if we go by latest reports it suggest that Varun is going to join Sara Ali Khan for upcoming remake not Alia.
News of Sara Ali Sharing screen space with Varun in upcoming remake was confirmed by Bollywood writer director Farhad Samji, while interacting with media he told, its going to be delight full moment for me to work first time with Varun and second time with Sara, he further disclosed right now he is working on dialogues, and it's for surprise that actor has already started preparing for his role, well this is what we call dedication toward work.
Well its going to be delightful moment for fans of Sara and Varun to watch on-screen chemistry of both stars first time.

After getting into skin of real coolie in TV reality show Mission Sapna, Varun is all set to ease onscreen  role of coolie in upcoming remake of Govinda's blockbuster hit Coolie No 1.
Recently actor confirmed the making of Coolie No 1 remake, while interacting with media actor disclosed that he is going to be part of remake which is going to be directed by original director and dad David Dhawan.
Answering to question will Alia be playing leading lady, he said its too early to say anything as star cast is yet not finalized, let's see who will be leading lady it all depends on filmmaker.
On work front actor is right now busy with his upcoming project Kalank opposite Alia Bhatt, recently maker of Kalank released first look Alia and Varun from sets of Kalank.
Well when it comes to onscereen chemistry Alia and Varun are best, well let's see if they again collaborate for upcoming sequel.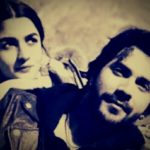 Recently maker of Kalank Karan Johar revealed first look of Alia and Varun from sets of Kalank.
Recently Karan Johar took social platform and shared first look of Alia and Varun from sets of Kalank with caption "A film that was born in my heart and mind 15 years ago….a film I passionately believe in…the last film my father worked on before he left us in tears it was his dream project  see through he couldn't fulfil his dream then….my spirit was broken….but today his wish has found a relationship with celluloid, I am feeling happy to fulfill my fathers dream.
Upcoming project is going to be  periodic drama set in 40's, being directed by Abhishek Verma, other co-stars of this flick are Madhuri Dixit, Sanjay Dutt, Sonakshi Sinha and Aditya Roy Kapur.
Well guys what you are waiting for go online and watch first glimpses of Alia and Varun Dhawan.
Recently Street Dancer actress Shraddha Kapoor revealed first look of co-star Varun from her upcoming project Street Dancer on social media  Instagram.
First look  which actress revealed you can witness Varun Dhawan doing heart throbbing move.
Well before it was revealed that Katrina is going to be part of Remo's ABCD franchise upcoming project titled "Street Dancer". However later ABCD2 fame shraddha replaced Katrina Kaif, well it happened after Kat was unable to give date to filmmaker due to her hectic schedule.
Well going through latest teaser uploaded by Shraddha seems breaking rules, as teaser is it self captioned #rulebreakers.
According to sources first schedule of Street Dancer was wrapped up in Punjab. And now crew members of flick will take off to London for next schedule very soon.
According to sources for giving full justice to dance performance in Street Dancer   filmmaker has engaged dance professionals to train Varun and Shraddha . Reports also suggest that filmmaker has engaged Tashan Muir well known street dancer of UK.
Flick is all set to release on November 8.
Well 2019 is going to be busy year for Bollywood actor Varun Dhawan as actor has number of projects in his kitty.
As we all know  Varun is all set with project like Kalank and Street Dancer. According to latest development actor is all set with remake of Govind's block buster hit Coolie No 1 for the same he will collaborate with his Dad David Dhawan, before actor collaborated with his Dad for "Main Tera Hero".
Apart from Coolie No1 actor is all set to collaborate with Shashank Khaitan action  project.
Recently first look of actor from upcoming project Street Dancer was revealed by co-star Shraddha Kapoor, you can witness actor in stunning dance form.
Well if news of upcoming remake Coolie No 1 is believed to be  true than its going to be delight for fans of Dhawan family to watch son and father collaborating once again.
advertisement
Subscribe Newsletter
Recent Posts
Tags