Well from the very first day news of Vidya Balan doing Biopic based on life story of math genius Shakuntala Devi came into existence, we have seen actress talking about project number of time, recently actress celebrated World Mathematics Day in which she was found praising Shakuntala Devi. Recently we went through first look of actress, in which Vidya is quite how resembling to Shukantala Devi. Taking into consideration that upcoming project revolves around math's, actress announced release date in mathematical equation adding film will release exactly 148 days from now, she also shared one problem in which she revealed releasing date of flick is adding the total of the date, month and the year equals to 8. Well going through style of actress revealing release date it seems actress has indulged herself in full character. Upcoming project is helmed by Anu Menon .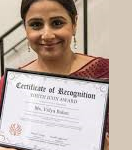 Mission Mangal star Vidya Balan recently visited one Collage in London, where she received Youth Icon Award.
Well actress is feeling overwhelmed after receiving Youth Icon Award this award was presented by The Imperial College London. She said she is feeling excited to receive first time Youth Icon Award.
Well actress was in London to interact with  students of The Imperial College London while promoting her upcoming project "Shakuntala Devi".
Recently Vidya Balan took social sharing platform for sharing award with his fans actor wrote I was excited to visit The Imperial College London for interaction with the students…It was after all where Shakuntala Devi made the historic calculation that earned her an entry into the #GuinnessBookOfWorldRecords."
Well Vidya Balan is all set with biopic based on life story of  math genius Shakuntala Devi who is known as Human Computer.
Upcoming project will release by the mid of next year.

As today  World Mathematics Day is being celebrated globally, Bollywood actress Vidya Balan in terms of celebrating this day shared motion poster of her upcoming project based on Maths genius "Shakuntala Devi" who is known as human computer.
Well as we all know actress easing a role of Shakutala Devi in upcoming project.
For celebrating World Mathematic Day actress took social sharing platform Instagram and shared motion poster with caption She changed the way the world perceived numbers! Celebrating the math genius #ShakuntalaDevi on #WorldMathematicsDay,".
Well few days back actress shared her first look from upcoming Shakuntala Devi's biopic, in a picture that she shared she quite how resembles with Shakuntala Devi, well going through first look she has proved that she is all set to justify role she is going to play.
In upcoming project Sanya Malhotra will be seen easing role of Vidya's daughter as she is going to ease role of Shakuntala Devi's daughter.
Upcoming biopic is being directed by Anu Meno and produced by Abundantia Entertainment.
Well guys get ready to watch Katrina Kaif and Vidya in action in upcoming untitled project which is going to be produced by Aanand L Rai.
According to latest buzz bollywood fillmaker Aanand L Rai is looking forward to collaborate with Katrina and Vidya for action comedy project which will be directed by debutant filmmaker Anirudh Ganapathy.
Well recently filmmaker had setback when his Zero got flopped at box office, this was SRK's first project that collapsed badly at box office making actor upset due to this he has become bit conscious about selecting script.
According to report script of upcoming action comedy is on final stage, once script get ready filmmaker will sign Katrina and Vidya for the same.
Well Anirudh has worked as assistant director in projects like Zero and Happy Bhaag Jayegi.
Well if above news is believed to be true than its going to be delight full moment for fans of Katrina and Vidya to watch them together in action.
Omg Vidya Balan look like  real character, as we all know actress is all set with Biopic based on life story of mathematic genius Shakuntala Devi  in upcoming project "Math Genius" who is known as human computer, well recently first look of Vidya was revealed by actress herself, which quite how resembles to real character.
Well recently actress took social platform twitter and revealed her first look, she shared first look poster with caption "She was extraordinary, in every sense of the word! Know the story of the child prodigy & the human computer, #ShakuntalaDevi @sonypicsprodns @Abundantia_Ent @anumenon1805 @vikramix @SnehaRajani".
In poster you can witness actress in saree avatar with bob cut hair style.
Well when it comes to portraying character Vidya Balan always gives her hundred percent perfection, and she has proved this in almost every character she played till date.
Recently actress received great applause for her outstanding performance in space project "Mission Mangal" in which she eased a role of ISRO scientist.
Upcoming project is all set release by the mid of next year.
advertisement
Subscribe Newsletter
Recent Posts
Tags