Thugs Of Hindostan

Releasing  : 8th November
Genre        :  Action
Producer  : Aditya Chopra
Director   : Vijay Krishna Acharya
Star Cast  : Amitabh Bachchan, Aamir Khan, Katrina Kaif, Fatima, Lloyd Owen
Music       : Ajay-Atul
"Thugs Of Hindostan" is based on Indian bandits fighting against British East India Company to free India. In this flick Amitabh Bachchan easing a role of Khudabaksh Azaad, Aamir easing role of Firangi Mallah. To watch how "Thugs Of Hindostan" fight back British East India Company watch movie at your nearest theater on 8th November.
Related Posts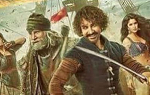 Well from the very first day making of "Thugs Of Hindostan" came into existences viewers are feeling keen to watch flick, well maker is leaving no stone unturned to create inquisitiveness among viewer by posting poster of all the character one by one. First poster that we witnessed was Big B's Khudabaksh look, than we came across Fatima's first look after that we came first look of main villain role played by LIoyd Owen, after that we came across first look of leading lady Katrina Kaif who is easing role of Surraiyya.
On 24th September Aamir Khan revealed his first look from his upcoming flick Thugs Of Hindostan with message to his fans.
Well one poster of "Thugs Of Hindostan" is doing around the corner on social media in which you can witness all four characters in same outline. However no one has come forward and officially announced about the poster doing around social media, well anyhow poster is creating excitement among viewers and fans of entire star cast.
According to sources trailer of "Thugs Of Hindostan" will be released on coming Thursday , and movie is all set to release during festive season on 8th November.
advertisement
Subscribe Newsletter
Recent Posts
Tags