Vaani Collaborating With Ranbir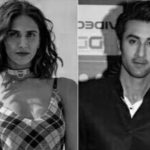 Befikri fame Vaani Kapoor is all set to share screen with Ranbir Kapoor in upcoming Karan Malhotra's project "Shamsher". She has received great applause for her outstanding performance in Befikri.
In upcoming project Vaani is going to play love interest of Ranbir. She will be playing important role as story will revolve around her role as she will be Involved  in actors ungovernable mission.
While interacting with media filmmaker disclosed I went for Vaani as she fit for role, she is outstanding performer, apart from acting she is good dancer. I was looking for fresh face for entertaining audience, she will be seen doing high end action opposite Ranbir.
According to sources in Shamsher you will witness Ranbir in never before avatar.
Before we have watched her opposite Ranveer Singh in Befikri and this time opposite Ranbir Kapoor, well ist it interesting.
Related Posts
These days Vaani Kapoor is in lime light, few days back we came across news in which it was revealed she inaugurated outlet of world class Brazilian Shoe brand Melissa in DLF Promenade Mall.
Well this time she is in news for soaring temperature, yes you heard right recently she did hot photo shoot for fashionable magazine Maxima which is turning heads. In this magazine she has showcased her bold avatar which is surely going to raise heat and make fans dither.
Well it's not happening first time when she has raised temperature, before also she has done so with her sexy moves in Befikree with hot number "Nashe Se Chadh Gayi".
In latest Maxima shoot you will witness actress promoting lingerie's.
Recently actress came forward and shared her latest Maxima photos on social media among her fans making them crazy.
Recently Bollywood actress Vaani Kapoor who is away from screen from past few months, recently spotted in event where she launched Brazilian shoe brand "Melissa" at DLF Promenade Mall.
"Melissa" is popular brand in about 96 countries globally including popular fashion cities such as New York, London, and Hong Kong and now they have opened there store in India.
According to sources after opening outlet in DLF Pormenda, company is looking forward to open new store in Mumbai and New Delhi very soon.
While interacting with media actress Vaani Kapoor added becoming part of launching worlds most happening shoe brand "Melissa" was great experience.
According to sources the Melissa shoe store have lots of stored for women collection, here you will get full range of baby girls collection.
According to report Melissa is going to collaborate with other popular brands like Karl Lagerfeld, Jean Paul Gaultier etc.
.
Few months back we watched Vaani Kapoor scorching screen with her sensational sexy moves with Ranveer Singh in Befike, we watched actress doing sexy moves on song titled Nashe Si Chad Gayi", this song became super duper hit due to chemistry between Ranveer and Vaani.
Once again Vaani is all set to increase temperature with her sexy moves on a old classic super duper number 'Ni Main Yaar Manana Ni' from  her upcoming project Daag.
"Ni Main Yaar Manana Ni" is recreated version developed by Hitesh Modak and voice is lend by Yashita Sharma.
Best thing about the song is that music video is produced by YR Films and directed by Shiv Rawail.
From the very first day video got released on social tube Youtube it started creating excitement among fans.
So what you are waitng for take a sneak peak of Vaani's hot moves on Youtube.:
OMG Vaani Kapoor blames herself for failure of Befikre, as movie did not do well at the box office, and now Vaani come forward and disclose that it was makers wrong decision signing me, according to Vaani she was the main reason behind Befikre getting flop.
While interacting with media during the recent event in Mumbai actress disclosed "Aditya did not go with right choice and signed me, so therefore I felt reason behind movie getting flop.
However actress made her come back after gap of three year, but her innocent confession made everyone proud for her, as we all know from the very first day first look of movie came out she was in controversy for her transformation as number of fans accused actress having done chin surgery. However actress showed cool attitude as she did not reacted in harsh way.
We salute Vaani for taking movie failure on her shoulder, she is such a cool actress.
advertisement
Subscribe Newsletter
Recent Posts
Tags