Varun Dhawan's October In June
Varun Dhawan's upcoming flick "October" to be release on June 1st 2018, movie is said to be life story.
While interacting with flick script writer Juni Chaturvedi disclosed from the very first day I started writing scripts I always focused on creating a story which reflect real time incidents happening around us. Upcoming project "October" will showcase life time events that mostly happen in our society.
Producer of flick Ronnie Lahiri disclosed our main aim is to create a simple story with which audience get interact easily. I hope audience will enjoy are concept.
In "October" lead role is going to be played by Varun Dhawan, movie is being directed by ace fillmaker Shoojit Sircar, produced by Ronnie Lahiri under banner of Rising Sun Films. Shooting of flick will commence in September.
So guys get ready to witness a flick which will showcase simple and powerful story.
Related Posts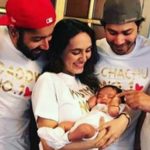 This year was happiest year for Bollywood filmmaker David Dhawan and his family  as his son Rohit Sharma was blessed with baby girl in May. But news was kept under wrap. However recently Varun Dhawan came forward and took Instagram and shared picture of his niece.
In picture you can witness David Dhawan, Varun Dhawan, Rohit Dhawan, Jhanvi Dhawan and Karuna Dhawan having fun with little girl laying in her mother's arms. Best thing about image that Varun shared is that whole family is wearing matching T-shirts describing there relationship as who is who of little girl, VD tagged his Nice as No 1.
However namkaran of little girl is yet to be done. After naamkaran ritual will be completed they will share name of baby.
We congratulate entire Dhawan family for adding new member in their family. We wish baby girl a healthy and happy life.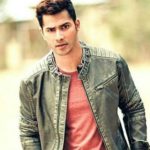 Recently we came across news that Varun Dhawan is all set for upcoming project Kalank. He is all set to perform in upcoming award show IIFA 2018 which will take place next year in Bangkok.
Well we all know when it comes to fitness Varun never compromise therefore he will be exchanging his fitness regime with dance.
While interacting with media actor disclosed "In terms of rehersaling for upcoming IIFA, he is looking forward to go for live performance in different market place, it's going to be new experience for him, doing live performance in front of audience will be helpful for me for upcoming award event in which he will be doing freestyle hip-hop and krumping for about ten minutes on chartbuster songs like Jee Karda, Sau Tarah Ke, Aa Toh Sahii, Tan Tana Tan, High Rated Gabru.
We hope after going through above news his fans will be feeling eager to watch actor doing dance moves IIFA 2018.
Once again Varun Dhawan is going to collaborate with filmmaker Shashank Khaitan, before they both collaborated for Humpty Sharma Ki Dulhania and sequel of Badrinath Ki Dulhania.
This time actor is collaborating with filmmaker for Rannbhoomi.
While interacting with media filmmaker disclosed "My upcoming project is on concept of Baahubali which was worrior flick, my main aim behind going for worrior concept is that Bollywood has not created any warrior project from Past many decades.
Few days back we came across news that Filmmaker has finalized Sara Ali Khan for Rannbhoomi, however filmmaker has denied any such development, adding we have not finalized starcast yet, I have only finalized Varun.
Shashank further disclosed script is ready, cast search is on, once everything get on track we will start shooting.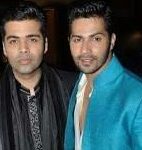 As we all know Farah has choreographed special sangeet song of upcoming royal wedding of Anil's daughter Sonam Kapoor, however due to leg injury she was not available for rehearsal, but she has asked her assistants to rehearse the dance number.
According to latest development recently
Varun Dhawan, Jacqueline Fernandez, Arjun Kapoor and others from the Kapoor family, were found rehersing special dance number at Anil Kapoor's residence.
Recently Bollywood director Karan Johar and Varun shared rehearsal video on social media Instagram. In this video you can witness everyone shaking leg on chartbuster song "Swag Se Swagat".
As Sonam Kapoor's special day is coming closer, her near and dear ones are stared arriving at Anil Kapoors residence, for participating in wedding ceremony. Her marriage will take place on May 8 in Mumbai.
As we all know Varun Dhawan is all set with "October", recently actor came forward and thanked Shoojit Sicar for making him part of his project.
Actor while interacting with media disclosed "I thanks Shoojit Sicar for signing me for "October", Its one of biggest achievement for me to become part of outstanding project, working with talented people is dream come true, this project has made me more versatile"
Varun further disclosed "October" has become life changing project for me as I am doing something different after long period. I had a dream to work with Shoojit Sircar, and now my dream has come true. Its first project which has been wrapped in short period of 38 days,
According to sources movie has been wrapped up before prescribed time in Manali.
In upcoming project "October" Varun is easing a role of housekeeper working in hotel.
Movie is all set to release on 13th April.
After giving blockbuster hits like "Humpty Sharma Ki Dulhania" and "Badrinath Ki Dulhania" Karan, Varun and Shashank Khaitan is all set to collaborate once again but this time for action project.
Yes you heard right trio is getting ready for action flick, they are coming up with revenge drama "Rannbhoomi".
While interacting with media Karan Johar disclosed "Rannbhoomi is Shashank's colossal and ambitious project for making hat-trick with Varun and Dharma Production.
Though we have appreciated their work before which was based on pure love story, but this time they are coming up with new genre, well we hope they get same love which they received before.
If news is believed to be true than its going to be delight for viewers to watch trio in action.
According to sources upcoming project "Rannbhoomi" will be releasing on coming Diwali 2018.
Recently maker of Sui Dhaaga revealed first look of flick, going through first look of flick you will watch Mauji (Varun Dhawan) and Mamta (Anushka)in new transformation making justification to their prescribed characters.
Movie is all about discovering love and value; movie showcase gratifying story that is rooted on Indian soil as how both individual celebrate the strength of love and independence.
Movie is made on concept of Make In India Campaign, best thing about this flick is Varun and Anushka first time sharing big screen.
From the very first day news of Varun and Anushka sharing screen came into light, there fans are eagerly waiting to watch first glimpses of both the star, well we hope fans would be feeling delighted after watching first look.
Sui Dhaaga is Yash Raj's project which is all set to release on 28th September.
Fukrey fame Varun Sharma who became popular over night due to his hilarious character "Choocha" that he played in Fukrey franchise.
Varun Sharma received great applause from viewers and critics for his outstanding performance in Fukrey Returns.
According to sources Varun is once again all set to entertain his fans in upcoming project, which is said to be big project, according to sources he will be seen playing second lead in Arjun Patiala opposite Diljit and Kriti.
According to source in upcoming project Sharma is going to ease character of Police office named Onida Singh who is arrogant officer, and  has dream of making system work properly so when come in contact with Arjun Patiala they both set mission to fight with system.
Well we hope after going through this news his fans will be feel delighted to watch him easing new avatar.
Recent maker of ABCD franchise Mr Remo D'souza announced that in his upcoming project he is going to cast Varun.
Well it seems Remo is quite impressed with Varun's performance in previous instalment of ABCD that he is going to cast him in his third instalment of ABCD.
Remo made this announcement on the sets of his reality show Dance Plus 3.
According to sources Varun will share screen space with Dharmesh, Punit, and Raghav. According to sources Remo will start working on project after wrapping his upcoming project Race3 in which he has signed Salman Khan.
Right now Varun is busy with promotion of his upcoming project Judwaa 2 which is a sequel of Salman Khan starrer Judwaa.
So guys get ready to watch Varun once again shaking his legs with Dharmesh, Punit and Raghav in upcoming ABCD3.
However leading lady is yet to be finalized.
Omg no A class actor wants to sign flick with Varun Dhawan, according to reports bollywood fillmaker Shoojit Sircar is looking forward to make flick on modern love story, but reports suggest all esltablish actress don't want to share screen with him.
According to reports everyone was shocked after going through news that no top established actress wants to share screen with Varun, however we all are well aware of the fact that number of time actor has received positive reviews from critics for his outstanding performance in number of projects.
According to reports Sircar first approached bollywood top-notch actress Deepika Padukone however she turned down the offer after that he approached number of another top-notch actress however they all turned down the offer of becoming part of  upcoming project "October"
However reason is not cleared about turning the offer down.
We hope actor gets leading lady for his upcoming project so that shooting of flick begins in time.
advertisement
Subscribe Newsletter
Recent Posts
Tags