Varun Dhawan's Street Dancer Look
Recently Street Dancer actress Shraddha Kapoor revealed first look of co-star Varun from her upcoming project Street Dancer on social media  Instagram.
First look  which actress revealed you can witness Varun Dhawan doing heart throbbing move.
Well before it was revealed that Katrina is going to be part of Remo's ABCD franchise upcoming project titled "Street Dancer". However later ABCD2 fame shraddha replaced Katrina Kaif, well it happened after Kat was unable to give date to filmmaker due to her hectic schedule.
Well going through latest teaser uploaded by Shraddha seems breaking rules, as teaser is it self captioned #rulebreakers.
According to sources first schedule of Street Dancer was wrapped up in Punjab. And now crew members of flick will take off to London for next schedule very soon.
According to sources for giving full justice to dance performance in Street Dancer   filmmaker has engaged dance professionals to train Varun and Shraddha . Reports also suggest that filmmaker has engaged Tashan Muir well known street dancer of UK.
Flick is all set to release on November 8.
Related Posts

These day making biopic has become trend in Bollywood from past few years we are witnessing number of projects made on biopics, now get ready to witness Varun playing lead in upcoming biopic.
Another biopic is on card, this time its Bollywood actor Varun Dhawan who is going to do biopic titled "Ekkis" based on Param Vir Chakar Awardee "Arun Khetrapal who lost his life in 1971 Indo-Pak war he was just 21 years old.
Taking into consideration that Arun Khetrapal was only 21 years old when he received Param Vir Chakar for sacrificing his life for nation in Indo-Pak war took place in 1971, filmmaker gave biopic title "Ekkis" (Twenty-one).
Upcoming  biopic is going to be directed by Badlapur director, Sriram Raghavan and produced by Dinesh Vijyan.
According to source filmmaker is right now busy with script work, once script get ready he will finalize entire star cast of biopic and announce when biopic will go on floor.
Well often we have discovered number of Bollywood celebrities fans go out of control and take extreme steps when they feel that their favorite celebrity is ignoring and not giving autograph and take selfies with them.
Recently a shocking incident came into light when female fan of Varun Dhawan started threatening actor adding that if actor failed to meet her she will harm his girlfriend Natasha Dalal.
According to sources One female fan of actor was seen number of time around actor's house, well Varun is down to earth actor he never make his fans stay waiting for him whenever he is free he always met his fans and have selfies with them and give them autographs. Well according to sources her fan got upset when she was unable to met Varun despite standing for hours outside his house. She got to upset that she ended up into quarrel.
According to sources after pertaining that she will harm herself if actor does not meet her, she started shouting that she will cause harm to actors girlfriend Natasha, she keep on shouting for 45 minutes adding she will harm Natasha if actor does not met her, taking into consideration that his fan does not harm his girlfriend actor immediately called police and lodged complaint against fan for threatening his girlfriend.

OMG Varun Dhawan to replace Rajkummar Rao in second installment of horror comedy flick Stree. Well first installment of Stree, despite actor receiving great applause for his outstanding performance got flopped at the box office, despite this maker of flick is working on sequel.
According to latest development Varun will replace Rajkummar Rao, however maker of flick is still in two mind as he shares good bounding with Rajkummar Rao.
Well above news still seems to be buzz as no one has come forward and officially announced replacement taking place in second installment of Stree.
Well if news of Varun replacing Rajkummar Rao is believed to be true than it will big setback for actor.
Now question arises will maker of flick will go with Shraddha Kapoor or even she will be replaced with any other actress, well for this we have to wait for some time till maker come forward and officially announce making of sequel and star cast.

Well few days back we came across news that Varun Dhawan is once again going to collaborate with his father for a remake, as we all know before Varun collaborated with his father David Dhawan for remake of Judwa, and now he is going to collaborate for another remake which is going to be remake of Govinda's blockbuster hit Coolie No 1.
However it was disclosed that maker of flick is looking for a leading lady who will join Varun for upcoming sequel, well there were speculations doing around the corner that he might be paired opposite his lucky charm Alia Bhatt, well if we go by latest reports it suggest that Varun is going to join Sara Ali Khan for upcoming remake not Alia.
News of Sara Ali Sharing screen space with Varun in upcoming remake was confirmed by Bollywood writer director Farhad Samji, while interacting with media he told, its going to be delight full moment for me to work first time with Varun and second time with Sara, he further disclosed right now he is working on dialogues, and it's for surprise that actor has already started preparing for his role, well this is what we call dedication toward work.
Well its going to be delightful moment for fans of Sara and Varun to watch on-screen chemistry of both stars first time.

After getting into skin of real coolie in TV reality show Mission Sapna, Varun is all set to ease onscreen  role of coolie in upcoming remake of Govinda's blockbuster hit Coolie No 1.
Recently actor confirmed the making of Coolie No 1 remake, while interacting with media actor disclosed that he is going to be part of remake which is going to be directed by original director and dad David Dhawan.
Answering to question will Alia be playing leading lady, he said its too early to say anything as star cast is yet not finalized, let's see who will be leading lady it all depends on filmmaker.
On work front actor is right now busy with his upcoming project Kalank opposite Alia Bhatt, recently maker of Kalank released first look Alia and Varun from sets of Kalank.
Well when it comes to onscereen chemistry Alia and Varun are best, well let's see if they again collaborate for upcoming sequel.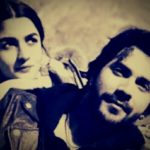 Recently maker of Kalank Karan Johar revealed first look of Alia and Varun from sets of Kalank.
Recently Karan Johar took social platform and shared first look of Alia and Varun from sets of Kalank with caption "A film that was born in my heart and mind 15 years ago….a film I passionately believe in…the last film my father worked on before he left us in tears it was his dream project  see through he couldn't fulfil his dream then….my spirit was broken….but today his wish has found a relationship with celluloid, I am feeling happy to fulfill my fathers dream.
Upcoming project is going to be  periodic drama set in 40's, being directed by Abhishek Verma, other co-stars of this flick are Madhuri Dixit, Sanjay Dutt, Sonakshi Sinha and Aditya Roy Kapur.
Well guys what you are waiting for go online and watch first glimpses of Alia and Varun Dhawan.
Well 2019 is going to be busy year for Bollywood actor Varun Dhawan as actor has number of projects in his kitty.
As we all know  Varun is all set with project like Kalank and Street Dancer. According to latest development actor is all set with remake of Govind's block buster hit Coolie No 1 for the same he will collaborate with his Dad David Dhawan, before actor collaborated with his Dad for "Main Tera Hero".
Apart from Coolie No1 actor is all set to collaborate with Shashank Khaitan action  project.
Recently first look of actor from upcoming project Street Dancer was revealed by co-star Shraddha Kapoor, you can witness actor in stunning dance form.
Well if news of upcoming remake Coolie No 1 is believed to be  true than its going to be delight for fans of Dhawan family to watch son and father collaborating once again.
As we all know bollywood actor Varun Dhawan is all set for Remo D'souza's dance project for the same actor and maker of flick leaving no stone unturned to give perfection too role.
Though Varun Dhawan is expert dancer, for giving justice to his role in upcoming dance project, actor is putting most of his time into dance training.
According to sources maker of flick has engaged action expert Kuldeep Shashi to give special training to actor in gymnastics, apart from gymnast actor is also taking training in different form of dance like Bhangra, Urban and Street hip-hop from specialist .
According to sources as actor required lean and strong body for prescribed role he is doing gym and workout regularly and he is also taking special diet for same .
According to reports shooting of upcoming dance flick will go on floor by next week of January 2019.
Recently Varun and Alia along with crew members of upcoming project "Kalank" were witnessed in a joyful mood in click shared by Varun Dhawan on social media Instagram, click was taken during the wrapping up of "Kalank".
Well Alia and Varun is sharing screen 4th time. Both the stars share great chemistry, best thing about Alia and Varun is they both made their debut with Karan Johar's "Student Of The Year" which was block buster hit. And now they are set with Karan Johars another project.
According to sources upcoming project is dream project of Yash Johar father of Karan Johar.
Recently Varun came forward and took instagram shared a click with captions.
"End of a crazy sched team #kalank. This has to be the most hard working team I have ever worked with. Day night these boys and girls have given their life so I can shine bright on screen. @abhivarman just smiling cause he thinks I'm craY and @aliaabhatt with zero sleep and an Injury giving her 100 percent #teamkalank. We coming to u in 2019 get ready. April 19 th. Also I got my #pizza".
Upcoming project will showcase emergency time in India set in 1940's era.
Upcoming project is produced by Karan Johar .
Movie is all set to release on 19thApril 2019.
Varun is going to be part of Salman's project "Bharat", as we all know Varun is die-hard fan of actor and number of time he has disclosed that Salman is his great mentor.
Recently Varun visited Big Boss sets for promotion of his latest project Sui Dhaaga, actor was seen having great fun with Salman Khan.
According to latest development Varun is all set to be part of "Bharat", and he will be seen doing cameo.
Well if news of Varun doing cameo in "Bharat" is true than it will be delight for his fans who consider him junior Salman.
Recently we watched Varun in Judwaa 2, which was sequel of Salman's Judwaa, from that very day his fans started calling him junior Salman, as actor fully justified the role.
Well it seems that actor's dream of sharing screen space with Salman is coming true; no matter he is going to do cameo.
Actor is receving great applause for his outstanding performance in Sui Dhaaga opposite Anushka , on the other hand movie had a great opening at the box-office.
On work front actor is all set with his upcoming project "Kalank"
advertisement
Subscribe Newsletter
Recent Posts
Tags