Vidya To Play Indira Gandhi In Web-Series
Khanni star Vidya Balan who recently appeared in South flick NTR: Mahanayakadu is all set to play a historical character of Late Prime Minister Indira Gandhi.
According to sources actress is all set to work on web-series based on life story of Late Prime Minister Indira Gandhi.
Well recently actress came forward in an event in Mumbai and confirmed making of web-series on Late Prime Minister Indira Gandhi she said "Yes I looking forward to ease role of Late Prime Minister Indira Gandhi in upcoming web-series. She further said working on web-series needs patience and hard work and I doing my level best".
According to sources actress has started preparing for her role, for the same she is leaving no stone unturned to get into skin of character.
It's happening first time when actress is looking forward to try her luck on online platform with web-series.
Related Posts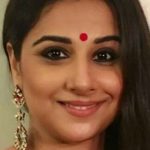 Bollywood versatile actress and Kahani fame Vidya Balan  recently came forward and confirmed about her upcoming project which is going to be biopic based on true life story of our Late Prime Minister Indira Gandhi.
Well before it was disclosed that biopic will release in theaters, however actress recently revealed that upcoming biopic is going to be Web-series. She further said well reason behind turning biopic into Web-seies is that storyline is so big, therfore it can only be telecast in form of web-series, and get full justification.
According to sources script work is on intial stage, when script will get ready, web-series will go on floor, and for the same official announcement will be made by the maker of biopic.
Well if news of web-series is believed to be true than its going to be delight for Vidya Balan's fans to witness actress in powerful role.
As we all know Vidya is all set with her upcoming project Tumhari Sulu as movie is all set to release coming Friday. Due to this she is on promotional spare, during promotion she was shocked when one of reporter asked un-pleased question from actress.
According to report recently Vidya went through gauche moment when she was interacting with media suddenly one reporter asked actress about her weight, due to which she got shocked and kept mum.But after keeping mum for few seconds she politely answered.
No you might be thinking what actually reporter asked he asked if in future she is looking forward to play female centric flicks or she will looking forward to loss some weight to look slim and gorgeous, however she politely replied there is no connection between acting and weight, I am happy what I am and what I am doing, she further said don't go by weight go by talent, I thinks time has come when society mindset should  change about fat individuals, well we salute actress for handling situation elegantly.
Few days back we came across news that Vidya has replaced Kangana Ranuat in upcoming Tigmanshu Dhulia's project which is said to be biopic based on Meena Kumar and know there is buzz doing around the corner that Vidya has walked out of the same.
According to reports when news of Kangana playing role of Meena Kumari came out, family members of Meena Kumar came forward and said Kangana was not right choice to play Meena Kumari. However Vidya was approached and she showed her keenness but any however she walked out of the same. She came forward and confirmed the news adding No, I'm not doing the Meena Kumari-biopic anymore. It didn't quite work out. I love Meena Kumari. If I had a girl crush on somebody, it would be her. If she was alive, I'd probably land up to see her all the time. I am that fascinated by her. I always wanted to play her."
According to reports actress feel's doing controversial flicks like "Dirty Picture" which was based on Silk, but doing biopic means you are going to indulge in sensitive project therefore one should go for right reasons. It does not means you just want to highlight one side of person keeping in mind that viewers will like to watch. Seeking in mind person is not alive, I have respect for her being a artist I don't think it appropriate to show one sided story of legend.
Well we seems it's her emotions toward her ideal that she is not ready to play Meena Kumari.
Right know actress is with promotion of her upcoming flick Tumhari Sulu.
As we all are aware that Vidya is once again getting ready to impress her fans and viewers with her upcoming most awaited flick Tumhari Sulu.
The best thing about this flick is that from very day the first poster of flick came out not only her fans but film fertilities are also feeling impressed.
Recently Twinkle Khanna took social platform tweeter and tweeted Vidya: `more power to your sari/cape.`
It was exciting experience for actress that renowned filmmaker Suresh Triveni engaged Bollywood's favorite poster artist Laxman Subhash Jadhav, for making oil painting of the same poster and he gifted that poster painting to Vidya to put on wall of her drawing room.
While interacting with media actress disclosed being part of Tumhari Sulu is great journey, I am easing a character of housewife who is curious and jolly by nature and how she transform apron to cap. Movie is being produced T-Series and Ellipsis Entertainment movie is all set to releases on November 24.
When it comes to versatility Vidya number of time has proved that she can play any kind of role no matter what kind of character she plays she always give her hundred percent.
After great success of Begum Jaan Vidya is coming back with most awaited project "Tumhari Sulu.
Recently maker of flick released first look of Tumhari Sulu, however you will be unable to see her face as it is covered with number of prizes in her hand which somehow create confusion about her role.
Well according to sources Vidya is easing a character of housewife who anyhow gets an chance to become RJ.
According to reports upcoming project will be full of  humor and it is believed that audience is going to enjoy every bit of Tumhari Sulu.
Movie is being produced with collaboration of T-series and Ellips Entertainment Production, and directed by Suresh Triveni. Tumhari. Co-stars of this flick Manav Kaul, Neha Dhupia and RJ Mallishka.
Movie is all set to release on first week of December..
Bollywood actress Vidya Balan talks about her upcoming project "Begum Jaan", actress said movie has a unique storyline as it showcase story of India and Pakistan partition through the eye of prostitute.
Actress further disclosed in Begum Jaan I am easing a character of brothel owner who fight for survival set against the backdrop of country partition that took place in 1947. Actress further disclosed movie has very unique story, when filmmaker was working on flick in Bengali version, he was very keen in making Hindi version too.
In Bengali version lead role is played by Rituparna Sengupta, in Hindi version he considered me to play a lead role. She disclosed this during the promotional event at Birsa Munda International Airport in Hinoo, Ranchi.
Vidya while disclosing her interaction said, playing a role of prostitute was bit challenging, I thanks all the crew member of Begum Jaan for supporting, without their support it was not possible.
When it comes to promotion of flick Vidya Balan is first ever actress who has set a trend of making public appearance in her movie character. She first donned Silk Smith's look while promoting "The Dirty Picture" and later she promoted suspense drama Khaani as a pregnant women these were two flicks which changed her entire career making her top bollywood actress.
And once again actress is on a promotional extravaganza with her upcoming flick "Begum Jaan" and sticking to her style of promotion, as she will be posing public in a character of her upcoming flick  with nose pins.
Reports further suggest when it comes to promotion she always enjoy getting into skin of her character, as she always make clear that she interact with public in her character which she is easing in her flick.
So guys get ready to watch actress promoting "Begum jaan" with different style of nose pins which she is wearing in her flick.
Filmmaker Kamal is not happy with Vidya Balan due to her takeoff from the project, few days back Kamal signed Vidya Balan for his upcoming project however Vidya back off from project.
According to reports Kamal signed Vidya for his upcoming project which is based on famous Malayalm artist and author Kamala Surayya.
According to maker Vidya shocked me when she opted out of project with unexpected issue by giving seven day notice before the start of shooting.
Kamal further disclosed I don't understand why she did like this, I feel she is unprofessional and unethical what else I call her for her act. Quitting project when all preparations of the shooting had been done, without giving any authenticated excuse.
She not only made me angry, however entire team member of my project are angry with her, how come one quite the project when it is on a starting stage.
Vidya after receiving great applauses for her outstanding performance in Kahaani 2 is all set with upcoming two projects one is Begum Jaan and second one is Tumhari Sullu which are all set to go on floor in 2017.
We have watched Vidya sharing screen with number of bollywood stars, however she has revealed that she has dream of sharing screen with Ranbir Kapoor.
According to reports while interacting with media she was asked which actor will make a lethal pair with her, she immediately said I don't understand what lethal pairing is, however it will be interesting if i get a chance to share screen with Ranbir Kapoor, as he is one of my dream actor.
While concluding her interaction with media she disclosed she is great admirer of Alia Bhatt, I like her performance in Udta Punjab, she gave full justice to her character. After watching her outstanding performance in Udta Punjab I have become great fan of her.
Vidya wants to compete with Aamir Khan Film opening. Yes you heard right actress while interacting with media during the promotion of her upcoming flick 'Kahaani 2' said she hope that her upcoming flick do huge business at the box-office as Aamir Khan films do.
While interacting with media Vidya was asked how she feel about the tag of Female Aamir Khan, actress answered smartly by adding "I hope my flicks do business like Superstar Aamir Khan, Vidya further disclosed its great compliment from me when someone tags me with Aamir Khan. She further disclosed Aamir is great actor and marketing guru. Though I have not shared screen with him till date. I have long way to go, I hope my upcoming flick do good business at the box-office, as his flicks do.
Going through above gossip it seems that actress has answer to every questions answer, as she without any hesitation give answer to every question.
We hope her upcoming Kahaani 2 do good business, however competing with Aamir is not so easy.
advertisement
Subscribe Newsletter
Recent Posts
Tags