Watch Amitabh And Rishi In "Bachche Ki Jaan"
As we all know Amitabh is playing role of Rishi Kapoor's father in upcoming comedy flick 102 Not Out, movie showcase bonding between father and son. This is happening first time when Amitabh is playing role of Rishi father in flick.
While watching flick one will feel being teased by his father regarding a love letter written by his son.
Recently maker of flick released foot tapping and peppy song "Bachehe Ki Jaan" song is been sung by Arijit Singh, composed by Salim-Sulaiman and pen down by Hiral Brahmbhatt.
Well it's for sure after going through "Bachche Ki Jaan" you will fall in love with Big B and Rishi's comic timing. And for sure this song is going to become house hold of every individual. Song is choreographed in a brilliant way.
Movie is all set to release on 4th May.
Related Posts
Bollywood versatile actress Taapsee Pannu is once again going to reunite with Amitabh Bachchan in Sujoy Ghosh's upcoming project. Before we watched them together in "Pink"
According to sources upcoming project is tentatively titled "Badla" which is going to be crime thriller.
According to sources Big B went through script and he has shown his interest, but he is still to sign the project, however Taapsee has already gave node to project.
According to sources maker of upcoming project has started working on project.
According to sources as both the stars are busy with their ongoing projects, therefore upcoming project "Badla" will commence by the mid of this year..
On work front Amitabh Bachachan has recently wrapped up "Thugs Of Hindostan" and started shooting for Chiranjeevi's magnum opus project "Sye Raa Narasihma Reddy. On the other hand Taapsee is busy with shooting of her upcoming project "Manmarzia".
Bollywood Mega star Amitabh Bachchan is all set with Brahmastra opposite Ranbir Kapoor and Alia Bhatt, movie is going to be directed by Ayan Mukherji.
According to report Big B is going through a look test, so that he can portray exact looks which is required in script so that character get justification, and we all know when it comes to justification actor never leaves any stone unturned.
Recently Big B came forward and shared image of his latest look, which is in consideration during the look test.
Actor also confirmed that he is sharing screen with Ranbir and Alia, and he also disclosed that movie will go floor next month.
According to sources Brahmastra is first ever flick having three-part fancy drama franchise.
Well we hope after going through this news Big B's fans will feeling crazy to watch him opposite todays stars Ranbir and Alia.
Bollywood mega star Amitabh Bachchan has mourned death of Aishwarya Rai Bachchan's father Krishan Raj.
Actor on Saturday took social platform twitter and tweeted "Death has but one end.. and one cannot define it:,
According to reports Krishnaraj was in intensive care at Lilavati Hospital in Mumbai and he passed away on Saturday after a prolonged illness.
According to Aishwarya Rai's spokesperson cremation of Krishnaraj took place on Saturday night at the city's Vile Parle Seva Sansthan Shamshan Bhoomi.
According to reports number of bollywood personalities like SRK, Aamir, Salman and filmmaker were present there to pay homage to Aishwarya Rai on her father's death. According to sources Aishwarya was seen with her mother in  shock as she was very near to her father.
According to sources Abhishek Bachchan and Aishwarya seen together with Big B and Jay Bhadri and other family members on cremation ground.
BR Balki once again sign BIG B for his upcoming flick, but this time Big B will play a cameo role. Though BR Balki and Big B's Shamitabh got flop at the box office, but Balki cannot make movie without his favorite star Amitab Bachchan.
According to sources filmmaker Balki has signed his favorite actor Amitabh once again for his upcoming flick starring Kareena Kapoor and Arjun Kapoor. In this movie Big B will do guest appearance, before we have seen outstanding performance of Big and Tabu in BR Balki's Cheeni Kum.
While interacting with media Balki said he is feeling happy that he has signed Big B for his upcoming flick, though Amitabh Sir is playing cameo in my movie, but I am sure his appearance in movie will have positive impact as he is my lucky charm, without him I cannot think of making any flick.
Though before we have seen Amitabh Playing role of Vidya  Balan's Son in R. Balis Paa but this time Big B will be playing Vidya Balan's father role in Shoojit Sarkar upcoming movie. According to latest reports both have entered into venture. Shoojit Sarka says Amitabh and Vidya's role in Paa was very much appreciated by the audience. According to Shoojit the chemistry between Amitabh and Vidya is good.
According to reports the story of Shoojit Sarkar upcoming movie revolves around father and daughter, and the problem which Amitabh faces due to his daughter getting failed to get a suitable groom.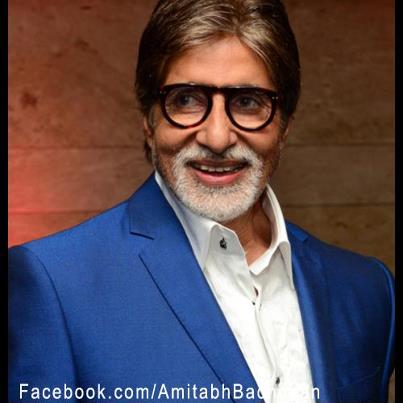 Bollywood actor, Amitabh will be shooting for Prakash Jha's next film Satyagraha in the city of lakes, is expected to receive a rousing welcome.
A source says, "Bachchanji is returning to Bhopal after two years. His wife Jaya's family resides in the city. He will stay at the heritage Noor-Us-Sabah Palace Hotel and its Gauhar Taj suite is being renovated." The entire decor of the suite, where AB will be staying from this month onwards to April, has been designed keeping in mind the royal heritage of the city.
The suite has been furnished with carpets made from New Zealand wool. Designer lamps and heritage paintings have been fitted.  According to a source from the city, on his last visit to the hotel Big B had made some suggestions that have been duly followed. "There is a separate high-speed Internet connection as he likes blogging and surfing the net," adds the source.
Insiders at the hotel say Big B enjoys staying there so much that he even recalls the name of every member of the staff.
When Bachchan had visited the hotel last, Chef Ziyad was put in-charge of his meals. And this time too, the chef will take over the responsibility of looking after the guest.
Our source says, "Big B likes curd with every meal along with paneer tikka, cheese chilly toast, aloo gobi and bhindi ki sabzi. He is a pure vegetarian and likes sprouted salads. He eats very less at night."
advertisement
Subscribe Newsletter
Recent Posts
Tags